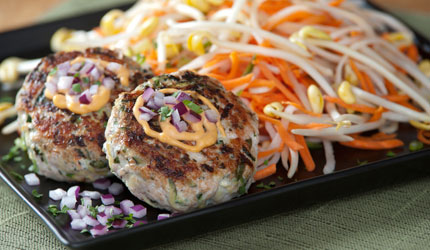 STRATEGY SESSION: In this recipe, I limit total  fat, saturated fat, and calories by starting with a lean protein (turkey breast). Then, to compensate for the absence of fat, I work in some shredded zucchini, whose high water content keeps the burgers juicy. Additional moisture comes from the sauce, in which light mayonnaise takes the place of full-fat. The sugar's contribution to glycemic load is balanced by the low-GI veggies: zucchini, scallions, red onion, and lettuce. To cook the burgers, I use macadamia nut oil because olive oil's flavor would be inappropriate in this setting.
Within the past few months, I've seen recipes for Vietnamese pork meatballs in The Boston Globe (http://tinyurl.com/prkmtblls) and in Bon Appétit (available on Epicurious.com http://tinyurl.com/prkbanhmi). These little nuggets pack big flavors, and I love them as much as the next foodie, but I don't love the fat and calories that come with ground pork. When I'm too lazy to trim and grind my own, I use ground turkey breast, which solves the problem. Unfortunately, as someone noted elsewhere on this site, it can be dry. To keep it moist, I add shredded zucchini and then sauté instead of grill. (Dry heat would be counter-productive.) Because my laziness extends to forming the meat, I skip the balls (50 in the Globe recipe!) and make 4 large burgers instead.
I've incorporated aspects of both conventional recipes. I prefer The Globe's lettuce to Bon Appétit's baguette for glycemic reasons. And I think Bon Appétit's mayonnaise works, but I flavor it in a way that mirrors the complexity of the burgers rather than underscoring the heat only. Re the hot chili sauce: I've tested several different ones (sambal oelek, sriracha, and Chinese chili sauce). They differ in intensity (sambal is a bit milder than the others), but they all yield excellent results. If you're not familiar with them,  you should taste as you go.
BTW, the mayo isn't really "hot pink"; it's hot and pink.
Serving suggestions: I like these burgers with Hot and Sweet Asian Slaw , but I've also served them with snow peas or sugar snaps, blanched 1 minute, and tossed in sesame oil, seasoned rice vinegar, and soy sauce.
Turkey-Zucchini Burgers with Vietnamese Flavors and Hot Pink Mayonnaise
1 medium zucchini (6 ounces), shredded in a food processor
½ cup thinly sliced scallions
2 tablespoons sambal oelek, sriracha, or other hot chili sauce, divided
2 tablespoons chopped fresh basil
2 tablespoons chopped fresh mint
4 teaspoons minced garlic
3 teaspoons sugar, divided
3 teaspoons fish sauce, divided
Freshly ground black pepper
1 pound ground turkey breast
Salt
1 tablespoon macadamia nut oil or canola oil
½ cup light mayonnaise, preferably Hellmann's
3 tablespoons minced red onion
1 head Boston lettuce, leaves washed and dried
In a large bowl, combine the zucchini, scallions, 1 tablespoon of the chili sauce, basil, mint, garlic, 2 teaspoons of the sugar, 2 teaspoons of the fish sauce, and black pepper to taste. Stir to blend well.
Add the turkey and work gently to blend. Do not over-work. Mixture will be moist and sticky. Form into 4 patties, about 1-inch thick.
Heat a large nonstick skillet over medium-high heat. When it is hot, add the oil, When it is hot, add the patties and cook approximately 3 minutes. Reduce heat to medium and cook 3 minutes longer. Turn and repeat on 0ther side (3 minutes on medium-high, 3 minutes on medium) until nicely browned and cooked through.
Meanwhile, in a small bowl combine the mayonnaise and red onion. Add the remaining 1 tablespoon chili sauce, 1 teaspoon sugar, and 1 teaspoon fish sauce.  Blend well with a fork. Season with salt and pepper to taste. (The mayonnaise may be prepared up to 24 hours in advance.)
Place each patty on a bed of lettuce and top with a dollop of the mayonnaise.
Makes 4 servings
Per serving: 262 calories, 8 g total fat, 2 g saturated fat, 81 mg cholesterol, 13 g total carbohydrate, 1 g dietary fiber. 29 g protein, 329 mg sodium.