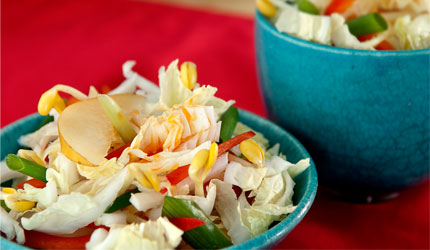 STRATEGY SESSION: As usual, my goals in this recipe are to keep fat and calories low and flavor high. To achieve the former, I make the dressing with only 1 tablespoon of oil. For the latter, I balance the heat of hot sesame oil with the sweetness of Asian pear, intensified by a tiny bit of sugar. The high glycemic index of the sugar is offset by the low GI of the vegetables, so the total glycemic load is moderated.
Composed salads have never been my thing. I'm much more of a throw-it-in-a-bowl-and-toss salad maker, and slaws are just about perfect in my opinion. While they may involve serious chopping, it's all brawn and no brains, and you can often do the prep work in advance. I like every imaginable kind—from classic American to exotic vegetable-fruit combos, such as the one featured here.
Serving suggestions: My favorite side-kick to this slaw is Hoisin-Glazed Veal Chops, coming next to Recipe of the Week. But, until then, serve it with any grilled meat, poultry, or fish-especially dishes with complementary Asian flavors.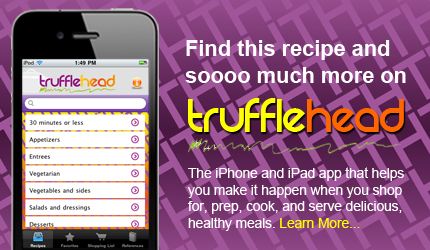 Trufflehead is now available for the iPhone and iPad in the App Store.
For more content, check out the Trufflehead food blog at trufflehead.com.