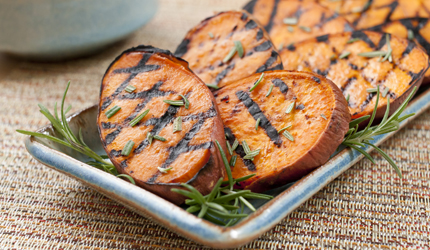 STRATEGY SESSION: Sweet potatoes are naturally low in fat and calories, high in fiber and anti-oxidants. The Center for Science in the Public Interest ranks them #1 in nutritional value among vegetables. They have a lower glycemic index than white potatoes, which makes them a healthier choice. They are, however, fairly carbohydrate-dense, so they do affect the glycemic load of any meal in which they appear. Bottom line: Eat them in moderation.
Where I live, the weather cooled off enough last week to make oven use possible—and these tasty grilled yams became an option. They're ridiculously easy to prepare, and versatile too. You can go naked and use only salt and pepper, or substitute your favorite herbs for the rosemary. If you have the energy, you can use the rub from Chipotle Sweet Potato Wedges . When you're pressed for time or out of fresh herbs, make a quickie Tex-Mex blend of chipotle powder, cinnamon, and cayenne in a 2:2:1 ratio. Throw some of that on with a little salt and pepper, and soon you'll be smiling.
This recipe will appear in Trufflehead v1.1 with photo IDs for the yams and rosemary, as well as demos for slicing potatoes on an angle and chopping rosemary. With those info-nuggets in hand (literally), even the least experienced cook can be smiling in under an hour. And now from Trufflehead…
If it's not too hot to turn on the oven and not too cold to fire up the grill, use them both to make these smoky sweet potato slabs. We give them a touch of rosemary here, but you can flavor them with all sorts of things. Experiment with other herbs, the spice blend from Mexican-Spiced Sweet Potatoes, or the rub from Grilled Shrimp with Smoky Barbecue Rub. If those options don't work for you, they're pretty tasty with just a sprinkling of salt and pepper. Despite the 2-step process, they take less time than plain baked sweet potatoes. Serve with grilled meats, poultry, or seafood. Tip: Go for yams of fairly uniform diameter and shape.
Note: This recipe is now exclusively available on Trufflehead, my healthy cooking app for iPhone and iPad. You can click the ad below to read about Trufflehead on iTunes and you can see it in action in the accompanying video. If you have an iOS device and would like a free download, please email me at [email protected] This offer is good while supplies last.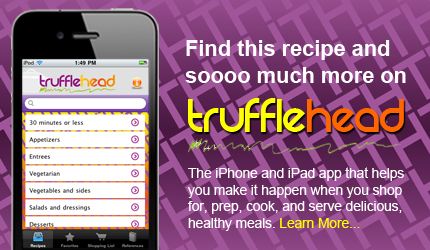 Trufflehead is now available for the iPhone and iPad in the App Store. For more content, check out the Trufflehead food blog at trufflehead.com.