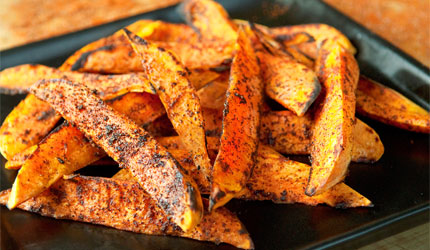 STRATEGY SESSION: Although sweet potatoes have a lower glycemic index (GI) than white potatoes, their carbohydrate density (CD) is high.  Since CD and GI both contribute to glycemic load, it's best not to over-indulge. One way to satisfy  desire with a small quantity is to use heat and spice. Chipotle powder and smoked paprika do the trick in this recipe. I limit calories and fat by using a single tablespoon of macadamia nut oil, the healthiest of all non-olive culinary oils. It complements these flavors better than olive oil would.
I guess I'd qualify as a chipotle freak. I keep canned, dried, and powdered forms on hand at all times- and I'm always running out of the canned ones. I use them in soups, stews, sauces, glazes, and- as a recent recipe demonstrates-salad dressings. I love them with chicken, turkey, seafood, pork, veggies, beans, and even fruit. About once a week, I can be found adding chipotle powder to cream cheese that I spread on whole wheat bagels. So, it should come as no surprise that I sprinkle it on oven fries too.
If you cook spicy food, you know that heat goes with sweet, and these potato wedges offer a perfect opportunity. A dusting of brown sugar underscores their natural sweetness, and the chipotle powder brings the heat. Spanish paprika elaborates on the chipotles' smoke. 
The high GI of white potatoes has put years between me and my last French fry, but they don't interest me in the least. Now, these bad boys are a different story altogether. They're crisp at the edges, tender inside, and irresistible all over. Where's the fat? You'll never miss it.
Note: If you can't find sweet potatoes, try jewel yams. They'll cook in the same amount of time.
Chipotle Sweet Potato Wedges 
3 large sweet potatoes or jewel yams, about ¾ pound each, peeled
1 tablespoon macadamia nut oil or canola oil
1 teaspoon chili powder
1 teaspoon ground cumin
½ teaspoon smoked paprika
1 teaspoon packed dark brown sugar
1 teaspoon kosher salt
1 teaspoon freshly ground black pepper
½ teaspoon chipotle powder, or to taste
Place the rack in the uppermost position and preheat oven to 425° F.
In a small bowl or measuring cup, combine the chili powder, cumin, smoked paprika, brown sugar, kosher salt, black pepper, and chipotle powder. Blend well with a wire whisk or fork.
Quarter the potatoes lengthwise and then cut each quarter lengthwise into 2 or 3 wedges about ¹/3 inch thick at the widest point.
Place on a nonstick rimmed baking sheet. Drizzle with the oil and toss to coat. Spread the wedges out in single layer, flat side down. Sprinkle evenly with 1/2 the spice mixture. Turn so that the other flat side is down and sprinkle with the remaining spice mixture.
Roast 30 to 40 minutes, turning once or twice, until the wedges are cooked through and lightly browned.
Makes 6 servings
Per serving: 156 calories, 3 g total fat, trace saturated fat, 0 mg cholesterol, 31 g total carbohydrate, 4 g dietary fiber, 3 g protein, 335 mg sodium.