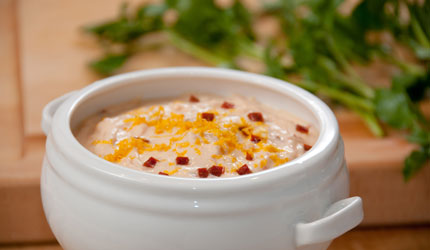 STRATEGY SESSION: Low-fat Greek yogurt  is my strategic ally in this recipe. It is thicker and richer-tasting than regular low-fat yogurt, as well as higher in protein and lower in carbohydrate. (The latter helps to limit the glycemic load.) Combined with a small amount of low-fat mayo, it makes a luscious dressing base that lends itself to a whole world of exotic flavors.
When the weather turns warm, I go into grill-and-salad mode, and-just as predictably-my husband starts referring to the fridge as "the cabinet of Dr. Caligari". When he opens the door, he sees jars of dark liquids (marinades awaiting victims) and an ever-expanding array of "weird" salad dressings (neither blue cheese nor buttermilk ranch.) He doesn't have to read the labels to know he's surrounded by threats (curry powder, coriander, cumin, cinnamon, and chilis fresh and dried- just to name a few).
Among these menacing agents, my current favorite is a chipotle-orange dressing that I throw over greens. I'm partial to watercress, but baby spinach or romaine will do. If I have the time, energy, and inventory, I'll add orange sections and slivered jicama. Cold sliced grilled chicken (or leftover chicken of any kind) turns it into a perfect lunch, but it could easily dress a side salad to accompany any other simple protein (griilled pork, boiled shrimp). Although it may seem cruel to my husband, I've presented it as a refreshing appetizer at a fancy summer dinner party where-adding insult to injury-I've topped it with big chunks of cold steamed lobster! Marital devotion can take me only so far.
Serving Suggestions: As mentioned above, I love this dressing on a salad of watercress, orange sections, and slivered jicama, but it would probably be great on almost any salad- even frosty wedges of iceberg lettuce.
Note: It's best to wear gloves when handling chipotles. Also, if you prefer a thinner dressing, use regular low-fat plain yogurt instead of Greek.
Special Note: This recipe made the Foodbuzz Top 9 on June 23rd, 2010. It was ranked #5 out of 3025 posts.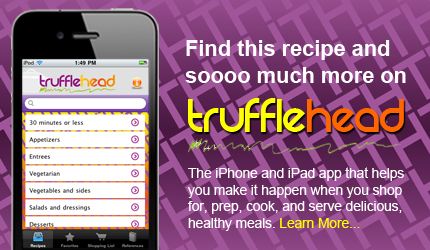 Trufflehead is now available for the iPhone and iPad in the App Store.
For more content, check out the Trufflehead food blog at trufflehead.com.