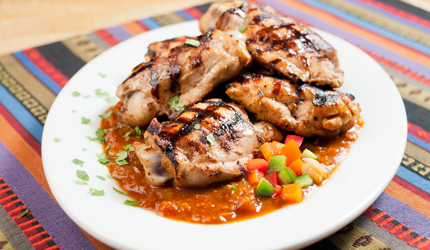 STRATEGY SESSION: Since this dish contains low-GI carbs and only 11 g total carbohydrate, it can help moderate the glycemic load of the meal. Skinned, well-trimmed chicken thighs are low in calories and fat, and an excellent source of lean protein. I use low-fat yogurt for the marinade and a small amount of macadamia nut oil in the sauce. I specify "organic" canola oil as an alternative because most canola is made from genetically modified ingredients. As far as I know, only organic brands are not.
For years I've considered Indian cuisine the friendliest to healthy cooking because its mind-blowing flavors depend more on spices than on fat. No surprise, then, that I've stuffed Trufflehead full of recipes that tell the tale. In v1.0, you'll find Tandoori Chicken, Curried Slaw with Fruit and Pistachios, Coconut Pumpkin Soup with Apples and Pears, Coconut Rice, Creamy Curried Orange Dressing, Curried Mango Chicken Thighs, Spiced Turkey Kebabs, Lamb Chops Marinated in Spiced Yogurt, and Grilled Radishes with Curried Yogurt Dipping Sauce. The fall release will add Chilled Grilled Cucumber Soup with Indian Flavors, Spicy Golden Lentils, Indian Black-Eyed Peas, Curry-Rubbed Lamb Chops with Grilled Mango, and today's recipe.
The Trufflehead support system for this dish includes information on fresh ginger, garlic, tomato puree, turmeric, and cilantro. And you can tap your way through 7 demos: Citrus (juicing), Ginger (mince), Garlic (mince), Dry Ingredients (measure), Chicken Thighs (trim), Onions (chop), and Cilantro (chop). The ingredients list is long, but the techniques are simple. If you love Indian food, it's definitely worth the effort. If you have garam masala, substitute it for the pumpkin pie spice—which is a compromise between flavor and authenticity on the one hand and user comfort on the other. And now, from Trufflehead…
From the ingredients list, this dish looks more complicated than it is. Here's the drill: marinate the chicken in spiced yogurt, make a sauce to go with it, then grill the chicken. Sometimes we marinate the chicken overnight and make the sauce the next day, right before we fire up the grill. Other times we make the sauce in advance and refrigerate or freeze it until we're ready to face the chicken. Since you can divide-and-conquer the work, it's perfect for entertaining. If you can't bring yourself to toast the spices, you can skip Step #2. Tips: This dish is HOT. If you're not used to spicy foods, decrease the cayenne pepper in the marinade to ½ teaspoon and in the sauce to ¼ teaspoon. Also, the sauce is so tasty that you may want to make a double batch.
Note: This recipe is now exclusively available on Trufflehead, my healthy cooking app for iPhone and iPad. It was selected as one of Apple's "New and Noteworthy" featured apps on January 5th, 2012. You can click the ad below to read about Trufflehead on iTunes and you can see it in action in the accompanying video.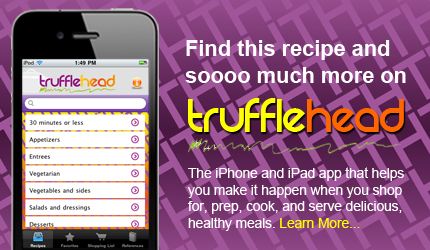 Trufflehead is now available for the iPhone and iPad in the App Store. For more content, check out the Trufflehead food blog at trufflehead.com.