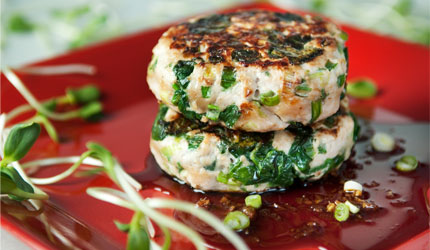 STRATEGY SESSION: In this recipe, I substitute turkey for pork to keep total  fat, saturated fat, and calories low. To cook the burgers, I use macadamia nut oil because olive oil's flavor would be inappropriate in this setting.
For 25 years, I've been happily married to someone whose food preferences are at the furthest verge from mine. He craves comfort; I seek adventure. He likes mellow; I love spicy. He wants familiar, I need surprise.
To give you the full flavor of it: Over the past month, I've been working on a broccoli soup (coming soon to Recipe of the Week). On the first round, I pureed the soup and added a little tarragon. His reaction? "There's something weird in it." The next week, I omitted the tarragon, but left the soup chunky to lower the glycemic index. Response:   "I'd like it better if it were completely pureed."  (My rejoinder: "I'm going to puree ALL of your food from now on.") And so it goes.
To limit this dynamic, I usually alternate cooking for him and for myself. Once in a while, however, our tastes intersect, and these burgers are a case in point. They're complex enough for me and soothing enough for him. Unless you hate ginger or scallions, they're probably in your sweet spot too!
Serving suggestions: I like these burgers with an Asian-inspired slaw of Napa cabbage, bean sprouts, and red bell pepper dressed with sesame oil, rice vinegar, and maple syrup or honey. (Also on the waiting list for Recipe of the  Week.) I've also served them with snow peas or sugar snaps, blanched 1 minute, and tossed in sesame oil and soy sauce.
Note:If you wish to reduce the sodium content of the sauce (from 717 to 502 mg per serving), you can substitute low-sodium for regular soy sauce; however, you may need to adjust the quantity of brown sugar as well. If you're pressed for time, you can speed-cool the reduced sauce: Transfer it to a stainless steel bowl and set the bowl in an ice-water bath. Stir occasionally until cool, approximately 5 minutes.
Special note: I am delighted to announce that these quirky turkey burgers were ranked #3 out of 3166 posts in the Foodbuzz Top 9 on January 27th, 2010.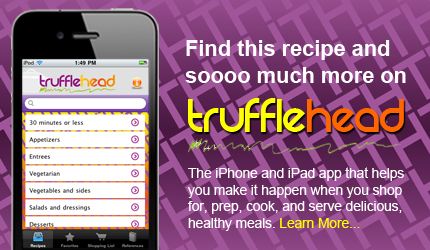 Trufflehead is now available for the iPhone and iPad in the App Store.
For more content, check out the Trufflehead food blog at trufflehead.com.