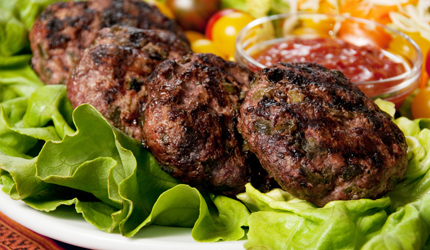 STRATEGY SESSION: The choice of bison (a.k.a. buffalo) over beef as the protein here means fewer calories, and less total fat, saturated fat, and cholesterol. However, since bison is extremely lean, it tends to be dry, and it therefore benefits from the mix-ins which contribute moisture, as well as interesting tastes. With respect to the small quantity of cheese in the recipe, I use the full-fat variety because it adds flavor that reduced-fat cheese just doesn't have. One other point: cheese is notoriously high in sodium, and even a tiny 1/2 ounce per serving adds 124 mg to the overall count. You can substitute a lower sodium cheese if you wish- but, as in the case of low-fat cheese- it won't have the flavor of the real thing.
Even apart from the health issue, beef burgers don't do it for me. Bison burgers are more my style. Bison has a deeper, richer flavor than beef, and it can stand up to other high-octane ingredients. Because its leanness makes it vulnerable to drying out, I add moisture (as well as complementary flavors) in the form of provolone and poblanos, which peek out through the meat. I serve them with ketchup, but it isn't grandma's- unless she had a thing for chipotles in adobo. The layered effect of the two chiles makes me happy.
If you're unfamiliar with bison (a.k.a. buffalo), you can read about it here. Bottom line: it's much better for you than beef, and the price of ground bison is comparable to that of ground beef sirloin. If you prefer to make the burgers with beef, ground sirloin is a much better choice than ground chuck.
Serving suggestions: My standard accompaniments are cole slaw or a garden salad with buttermilk ranch dressing.
Grilled Bison Burgers with Chipotle Ketchup
2 poblano peppers
1 teaspoon macadamia nut or canola oil
1 pound ground bison (buffalo) or ground beef sirloin
2 ounces aged provolone, coarsely grated
¼ teaspoon kosher salt
½ teaspoon freshly ground black pepper
½ cup ketchup, preferably Heinz
1 teaspoon finely chopped chipotle peppers (canned chipotles in adobo), seeds and membranes removed
1 teaspoon adobo sauce, seeds removed
1. Preheat the grill or broiler to medium-high.
2. Rub the poblanos with the oil and grill or broil, turning every few minutes, until the skin on all sides is blistered and blackened. Transfer to a paper bag. Close the bag and allow the peppers to steam for 15 minutes. Remove the charred skin, stems, seeds, and membranes from the peppers. Chop coarsely and cool completely before continuing with the recipe. (Poblanos may be prepared several days in advance and refrigerated in a covered container.)
3. Place the ketchup, chipotles, and adobo sauce in a small bowl or measuring cup. Whisk to blend well. (This makes a spicy ketchup. Add more ketchup or less of the chipotles and adobo to decrease the heat, or more chipotles to increase it. The ketchup may be made up to a week in advance and refrigerated in a covered container.)
4. Combine the bison, provolone, salt, black pepper, and poblanos in a large bowl. Without overmixing, gently blend and form into 4 equal patties, approximately 1 inch thick.
5. Prepare the grill with an oiled rack and preheat to medium-high. Grill the burgers 5 to 6 minutes per side for medium rare. Serve immediately, topped with a dollop of the ketchup.
Makes 4 servings
Per serving: 233 calories, 6.8 g total fat, 2.6 g saturated fat, cholesterol 92 mg, 11 g total carbohydrate, 1 g dietary fiber, 34 g protein, 431 mg sodium.