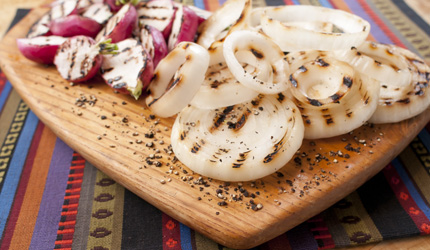 STRATEGY SESSION: Onions are naturally low in fat and calories. Since they have a low glycemic index and are not very carbohydrate-dense, they make a minimal contribution to the glycemic load of any meal in which they appear. I use a small quantity of olive oil for brushing.

You'll probably think I'm crazy. Trufflehead v1 isn't even out yet, and I'm already working on the next release—scheduled for late September. In our first v1.1 photo shoot, my photographer, Kat, and I set an all-time record: 7 dishes in 2½ hours. Although 2 of the recipes looked forward to fall (Mexican-Spiced Sweet Potatoes and Spicy Black Beans), 5 had more than one foot in summer: Cold Spicy Red Pepper Soup, Grilled Chipotle-Orange Scallops, Grilled Sweet Potatoes with Rosemary, Simple Grilled Fennel, and today's dish, Grilled Vidalia Onions.
This recipe is so easy that it requires almost nothing in the way of a support system—even for newbie cooks. I'll provide a photo of a Vidalia (with selection and storage info) as well as a demo on cutting the rings. (I do it in a particular way.) The equipment list will contain hyperlinked images for paring knife, chef's knife, basting brush, and baking sheet. If that's not enough to get users through it, I'm afraid I can't help them. And now, from Trufflehead…
If you've only eaten Vidalias raw, you're in for a treat. Light grilling makes them sweeter and more mellow without robbing them of their crispness. Just brush them with a little oil and season with salt and pepper. Give them about 5 minutes over a hot fire and prepare to fall in love. If we have any left over, we'll eat them cold—right out of the fridge. They're that good. We serve them with Grilled Chipotle-Orange Scallops and Spicy Black Beans or Bison Burgers with Chipotle Ketchup. They're not too bad with plain burgers either—or any grilled meat or poultry dish.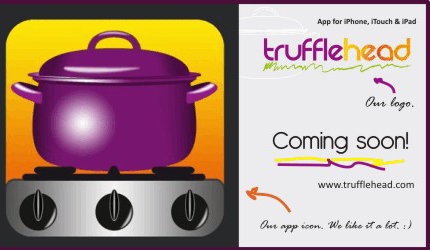 Grilled Vidalia Onions
4 Vidalia onions
4 teaspoons olive oil
Salt
Freshly ground black pepper
Peel onions and cut into 4 thick slices.
To keep slices intact, slip spatula under each one and gently transfer to a baking sheet. Brush exposed side with oil and season with salt and pepper.
Prepare the grill with oiled rack and preheat to high. Place onion slices oiled side down and grill about 3 minutes until lightly grill-marked. (They will become mushy if overcooked.) Brush exposed surface with oil and season with salt and pepper. Taking care not to disrupt rings, turn using a spatula and grill about 3 more minutes. (If the rings separate, move them so that they are all in contact with the grill surface.) Serve hot, warm, or at room temperature.
Makes 4 servings
Per serving:  100 calories, 6 g total fat, 2 g saturated fat, 0 mg cholesterol, 16 g total carbohydrate, 4 g dietary fiber, 6 mg sodium.