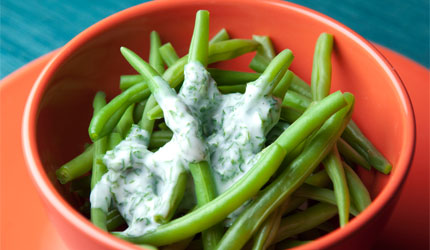 [donotprint]STRATEGY SESSION: Green beans are naturally low in fat and calories. Since they have a low
glycemic index
and are not very carbohydrate-dense, they make a minimal contribution to the
glycemic load
of any meal in which they appear. As usual, I substitute reduced fat buttermilk and mayo for their full fat counterparts. Parsley is loaded with vitamin A and folate.
Everyone I know is grilling something tomorrow, and my inbox has been full of questions all week. "I'm looking for something
different
and
easy
to serve with X. What do you suggest?" I take "different" to mean: "Forget about cole slaw and potato salad." This green bean dish is the attachment du jour. It also perfectly represents my brand of "easy." You do have to blanch the beans, mince the parsley and onion, and blend the dressing. Happily, you can do all of it the day before. When your guests arrive, just throw everything into a bowl and toss. By the time you get to the tossing stage, the work will be a distant memory, and it will seem as though someone else did it. The Trufflehead support system for this recipe includes ingredient IDs with selection and storage info for green beans, red onion, and flat-leaf parsley. It's also packed with step-specific demos: Dry Ingredients (measure), Parsley (mince), Onions (mince or chop),  Green Beans (trim), and Blanching Vegetables. And now, from Trufflehead…  
Parsley usually settles for minor roles in recipes, but here it stars. The dish is all about what happens when edgy herbiness meets sweet green beans, tangy buttermilk, and sassy red onion. For breezy summer entertaining, you can make the beans and dressing in advance. Feel free to substitute yellow wax beans for half the green ones. Serve with grilled meat, poultry, or seafood.
[/donotprint]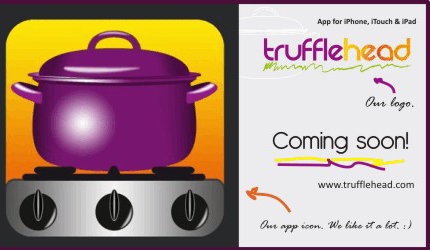 Special note: The "print recipe" function is temporarily out of order. We hope to have it up and running shortly.
Green Bean Salad with Parsley-Buttermilk Dressing
6 tablespoons nonfat or low-fat buttermilk
2 tablespoons light or low-fat mayonnaise, preferably Hellmann's Light
1 tablespoon white wine vinegar
½ teaspoon salt
Freshly ground black pepper
½ cup minced flat-leaf parsley
2 tablespoons minced red onion
2  pounds green beans, trimmed
In a blender, combine the buttermilk, mayonnaise, vinegar, salt, and pepper to taste. Process until smooth. Transfer to a small bowl or measuring cup. Stir in the parsley and red onion. (May be prepared up to 24 hours in advance and refrigerated in a covered container.)
Prepare an ice water bath.
Bring large pot of water to a boil. Add the beans; cover and cook 3 to 5 minutes until crisp-tender. Drain in a colander and transfer to the ice water bath to stop the cooking. Drain and dry between layers of paper towels. (May be prepared up to 24 hours in advance and refrigerated in a covered container.)
Place the beans in a large bowl. Add the dressing and toss to coat.  Adjust seasoning and serve.
Makes 6 servings
Per serving: 64 calories, 1 g total fat, trace saturated fat, 2 mg cholesterol, 12 g total carbohydrate, 5 g dietary fiber, 3 g protein, 230 mg sodium.