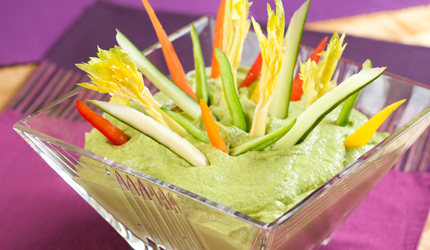 [donotprint]STRATEGY SESSION: It would be impossible to describe all of the nutritional benefits of this dip in the space available here. Suffice it to say that it's a spoonable definition of healthy. The edamame (a source of whole soy protein) and chickpeas are low
glycemic index
carbs. The avocado provides healthy fats. Parsley and spinach supply antioxidants.
The remaining ingredients contain no fat and virtually no calories.
  Aside from a few Super Bowl guacs for my son and a Roquefort thing I make all the time, I had little pre-Trufflehead experience with dips. For some reason, my mind doesn't go in that direction on its own. But when I started circulating potential app recipes among my younger friends, I learned that they're must-haves for parties, and so they became must-haves for me. Today's party nibble is a beauty, and I wish I could take credit for it. Unfortunately, the glory has to go to my friend and colleague, Amie Valpone, author of
The Healthy Apple
blog and publisher of EasyEats.com, an upcoming online eco-friendly gluten-free lifestyle magazine. The TH excerpt below details her official credentials, but I'd like to put some meat on the description: She's brilliant and talented—and I consider her the doyenne of the gluten-free world. I find her palate unfailingly reliable. She made several major contributions to the app, for which I'm hugely grateful. To top it off, I'm completely addicted to
her dip
. And now, from Trufflehead (v1.1)…   Tired of ho-hum hummus? Go green with edamame and say good-by to boring. The original recipe for this glorious dip came from our pal, Amie Valpone, a Manhattan-based culinary marketing consultant specializing in gluten-free and dairy-free nutrition. When we spotted it on her blog,
www.thehealthyapple.com
, we didn't have navy beans or white balsamic vinegar, so we used chickpeas and red wine vinegar instead. It was still amazing. Serve with cut veggies (especially red, yellow, and orange bell pepper strips), whole grain pita, or pita chips. The recipe makes 24 (2-tablespoon) servings. Tips: We find that ½ teaspoon salt brings out the flavors, but you may want to start with less and increase to taste. Bean cooking time is not included in time estimate.
Note: This recipe is now exclusively available on Trufflehead, my healthy cooking app for iPhone and iPad. It was selected as one of Apple's "New and Noteworthy" featured apps on January 5th, 2012. You can click the ad below to read about Trufflehead on iTunes and you can see it in action in the accompanying video.
[/donotprint]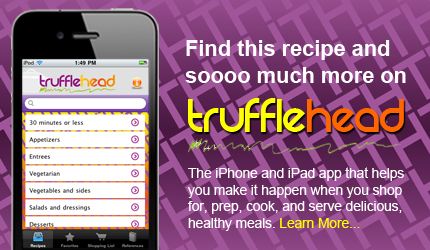 Trufflehead is now available for the iPhone and iPad in the
App Store
. For more content, check out the Trufflehead
food blog
at trufflehead.com.