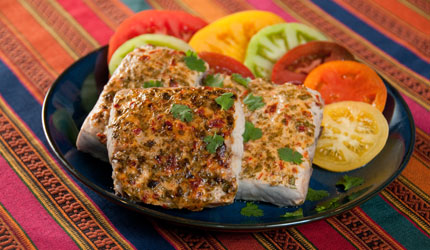 [donotprint]STRATEGY SESSION: Since this dish contains only 4 g total carbohydrate, it can help balance the carbs in the rest of the meal and moderate the glycemic load. Low in calories and fat, bluefish is an excellent source of lean protein. I use a small amount of olive oil to broil the fish and, as usual, I substitute reduced-fat for full fat mayo in the sauce.
  I feel like an expectant mother in her 9
th
month. I know I'm close, but no one can predict whether delivery will be a week or a month away. Meanwhile, in my world, it's all Trufflehead all the time. (This is what psychonanalysts call "primary maternal preoccupation.") Tomorrow I should receive what I hope is the final "build"—a living prototype of the app. We'll put it through a bunch of tests to see if it's healthy enough to bring out. Meanwhile, I'm making sure that I've done everything I can to prepare. Over the past week, I've checked all of the content. I wouldn't want someone to tap the icon next to chopped cilantro in the ingredients list and end up with Chipotle Peppers (seed and mince). Speaking of demos, the infrastructure for this recipe really does include demos for Cilantro (chop) and Chipotle Peppers (seed and mince), as well as Citrus (juicing) and Dry Ingredients (measure). For users unfamiliar with cilantro and chipotles, I've added photo IDs and selection/location/storage info through hyperlinks embedded in the recipe. If anyone's in doubt about the "nonstick broiler pan," he can tap the words to view an image. The equipment list also provides hyperlinked pix for chef's knife, measuring cups, measuring spoons, nonmetal pancake turner or spatula, and protective gloves (for handling the chipotles). I saw bluefish in the store yesterday and so I know they're out there. This recipe is from the 30-minutes-or-less category—which is #1 on the home page menu. And now from Trufflehead…   Bluefish and mackerel are big-flavored fish that can stand up to the other players in this recipe: cilantro, chipotles, lime, and cumin. If you're thinking "sophisticated Mexican", you've got the right flash. Great sides include: Black Bean Salad with Avocado, Broiled Summer Squash with Roasted Pepper Oil, or Tomato, Cucumber, and Avocado Salad. The zippy mayo goes with all sorts of seafood—especially grilled or boiled shrimp—as well as hard-boiled eggs. For a wicked lunch, use it instead of regular mayo in tuna or egg salad.
[/donotprint]