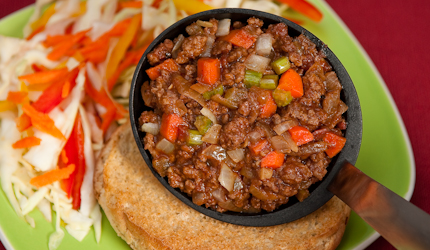 STRATEGY SESSION: I address the problem of excess fat in this recipe in 2 ways:  I substitute a lean protein for a fatty one and reduce the  overall quantity of added fat. Then, I upgrade the type of fat by substituting healthy olive oil for saturated-fat-laden butter.
These Sloppy Joes are a  far cry from the rust-colored industrial concoction that I remember from school cafeterias. For flavor, you can't beat the original Gourmet recipe (link below), but it's loaded with calories, fat, and cholesterol. My solution? Jettison the butter and ground chuck, and replace them with olive oil and ground buffalo. There will be so much going on  in your mouth that you won't notice the difference.
In addition, I've streamlined the process so that the first two steps can be done in advance. Since I'm an early riser, I prepare my "hamburger helper" in the morning. I throw together the tomato and spice mixtures, and sometimes even chop the vegetables. (You can do these things the day before if you wish.) Then, in the evening, I have an almost instant entrée ready to go-one that my favorite carnivores love.
If you're unfamiliar with buffalo (a.k.a. bison), it's time you were introduced. For red meat eaters, it's a great alternative to beef, and it's now widely available. Nutritional counts for different brands vary with the ratio of grass to grain in the animals' diets; nevertheless, a comparison of one brand (Thunder Ridge Bison) with beef chuck is illuminating:
Cooked Buffalo
3.5 ounces
Cooked Beef Chuck
3.5 ounces
Calories
143
268
Total Fat
2.4 g
17.4 g
Saturated Fat
1.2 g
7.0 g
Cholesterol
66 mg
88 mg
Protein
28.4 g
26.7 g
Big difference! Beef chuck has almost twice as many calories, 7 times as much fat, 6 times as much saturated fat, 33% more cholesterol, and  slightly less protein. Even though buffalo costs a bit more (it's comparable to ground sirloin in price), making Sloppy Joes with chuck is a bad bargain.
Buffalo meat has a sweet, rich flavor that some consider deeper and more intense than beef. I think the flavor lies somewhere between venison and beef, but that's not too important. It's simply delicious in its own right.
Serving suggestions: My husband and son like to spoon it over roasted spaghetti squash, but you can certainly serve it in the traditional way on a toasted whole wheat (I hope) bun. Cole slaw or a salad of lettuce, cucumbers, and red onion with ranch dressing would be very nice on the side.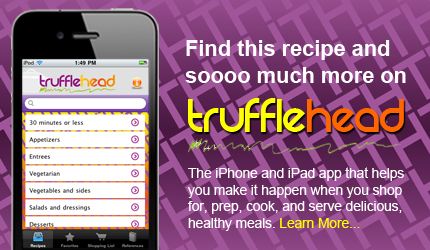 Trufflehead is now available for the iPhone and iPad in the App Store.
For more content, check out the Trufflehead food blog at trufflehead.com.