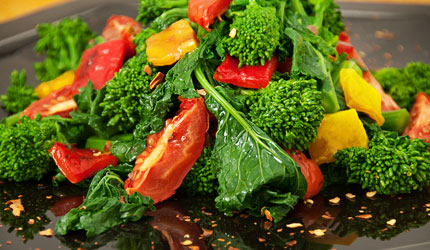 STRATEGY SESSION: This recipe features several of my favorite interventions for making healthy food taste better: low-temperature or "slow" roasting (tomatoes), high-temperature roasting (peppers) , and pooling oil. The goal of all 3 is to maximize flavor with minimal fat. In addition, the final dish exhibits glycemic load moderation in that broccoli rabe has a lower carbohydrate density and glycemic index than either the tomatoes or peppers.
Because I can't stand cooking under pressure, I love recipes whose components can be prepared in advance at a leisurely pace. I'm willing to spend Sunday afternoon in the kitchen if I can live off the proceeds during the week.
This work style has evolved over many years and a number of my recipes bear its stamp. There's a glimpse of it in Fennel with Garlic and Parsley, and more than a glimpse in Salad of Roasted Beets, their Greens, and Chives. But you get the full monty in this 4-day extravaganza, culminating in a kind of Italian stir-fry. Aside from its being a delicious explosion of anti-oxidants, this recipe generates 4 different vegetable dishes that can be served over 4 nights with a parade of proteins.
Here's how it works.  I make the tomatoes on Sunday morning because the slow roasting takes a couple of hours and I'm usually at home.  I  sprinkle half of them with fresh herbs and half with salt only. I save the plain ones for the final dish and serve the herbed ones Sunday night with broiled lamb chops or roast chicken. Monday, I roast 3 red and 3 yellow bell peppers. I hide 1 of each and serve the remaining 4 with capers and anchovies as part of an elaborate antipasto platter. Tuesday,  I blanch 2 bunches of broccoli rabe. One bunch goes into the fridge and the other  goes into a skillet with olive oil, garlic, and red pepper to accompany veal chops or osso bucco. Wednesday night, I pull out my colorful stash and throw everything together with a little olive oil, garlic, and hot pepper. In a second skillet, I sauté some shrimp with garlic and parsley.  These 10 minutes taste like 10 hours! And, if I have some of this leftover, so much the better: one more dinner I won't have to think about.
Serving suggestions:  As I mentioned above, I like it with shrimp with garlic and parsley, but it's also delicious with broiled, grilled, or roasted lamb,  chicken, or Cornish game hens.
Note: A friend of mine dislikes broccoli rabe for its bitterness. Well, it is bitter, but the natural sweetness of the tomatoes and peppers tone it down.
Slow-Roasted Tomatoes
Reserve half of the tomatoes for the final dish, and make sure they are seasoned with Kosher salt only.
Olive oil spray
2½ pounds plum (Roma) tomatoes, cored and halved lengthwise
Kosher salt for sprinkling
Chopped fresh thyme  or rosemary leaves for sprinkling, optional
Preheat the oven to 200° F. Spray a nonstick rimmed baking sheet or jelly roll pan with olive oil. Place the tomatoes on the baking sheet cut side up and season generously with the salt. Sprinkle

HALF

of the tomatoes with the thyme or rosemary, if using. Roast for 2 to 4 hours, depending on size, until the edges of the tomatoes are shriveled, but they remain juicy. They should lose about 50% of their weight by the end of roasting, but should not become hard, dry, or blackened. (Reserve half of the tomatoes (salt only, no herbs) for the final dish. and Refrigerate in a covered container.)
Makes 4 servings (including the tomatoes reserved for the final dish)
Per serving: Calories 60, 1 g total fat, 0 g saturated fat,  0 mg cholesterol, 13 g total carbohydrate, 3 g dietary fiber, 3 g protein, 26 mg sodium.
Roasted Peppers with Anchovies and Capers
Reserve 1 roasted red pepper and 1 roasted yellow pepper for the final dish.
3 large red bell peppers
3 large yellow bell peppers
8 anchovy fillets
2 to 3 teaspoons capers
Extra virgin olive oil for drizzling, optional
Red or white wine vinegar for drizzling, optional
Roast the peppers by thoroughly charring the skins under the broiler. Transfer to a paper bag and allow to steam for 15 minutes to loosen the skin. Remove stems, skins, seeds, and membranes. Tear the peppers along the natural dividing lines into manageable lobes and place in a plastic container. The peppers will release their juices as they cool. (Reserve 1 roasted pepper of each color for the final dish. Refrigerate in a covered container.)
Place the anchovy fillets in a sieve and rinse under cold water. Pat dry between layers of paper towels. Reserving the pepper juice, remove the peppers from the container and set aside. Toss the anchovy fillets in the pepper juice to moisten. Arrange the peppers on a plate skinned side up. Lay the anchovies over the peppers and sprinkle with the capers. Spoon any remaining pepper juice over them, or drizzle with oil and vinegar, if using. Serve at room temperature or chilled.
Makes 4 servings (not including the 2 peppers reserved for the final dish)
Per serving: Calories 92, 2 g total fat, 0 g saturated fat, 7 mg cholesterol, 16 g total carbohydrate, 7 g dietary fiber, 7 g protein, 357 mg sodium.
Broccoli Rabe with Garlic and Hot Pepper
Reserve half of the blanched broccoli rabe for the final dish.
2 bunches broccoli rabe, about 1¼ pounds each, ends trimmed, cut into 2″ lengths
1 tablespoon extra virgin olive oil
1 tablespoon minced garlic
¼ teaspoon hot red pepper flakes, or to taste
Salt and freshly ground black pepper
Bring a large pot of salted boiling water to a boil. Add the broccoli rabe and cook 3 minutes. Transfer to a cold water bath to stop the cooking. Drain and dry between layers of paper towels. (Reserve half the broccoli rabe for the final dish. Refrigerate in a covered container.)
Place a large deep nonstick skillet over medium heat. When it is hot, add the oil in a little pool. Do not spread it around. When the oil is hot, add the garlic and pepper flakes to it. Cook about 1 minute, stirring gently without dispersing the pool. When the garlic is fragrant, spread the garlic-oil mixture over the entire pan. Add the broccoli rabe and toss gently to coat. Season generously with salt and pepper and cook about 5 minutes until heated through. Serve immediately.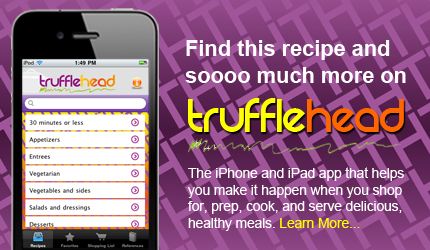 Trufflehead is now available for the iPhone and iPad in the App Store.
For more content, check out the Trufflehead food blog at trufflehead.com.