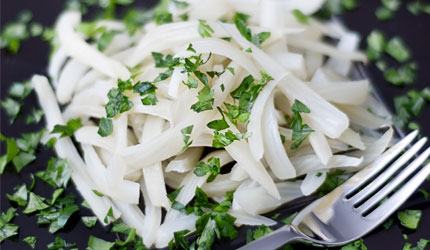 STRATEGY SESSION: This dish illustrates 2 of my basic strategies for cooking with very little oil: Foil Roasting and Pooling Oil. It's well known that fat is our most powerful flavor intensifier and any reductions in it demand compensation. Here four fennel bulbs are prepared with only 1 tablespoon of oil, an amount insufficient to sauté them effectively. The addition of water would solve the cooking problem, but it would dilute the flavor. Instead, I first roast the fennel in foil so that it steams in its own juice, which actually enhances the flavor. Then, in the final step,  I pool the oil to intensify the flavor of the garlic and parsley.
Incidentally, the foil technique has a side-benefit:  You can roast the fennel several days in advance (say, on the weekend) and use it as an almost instant side-dish on a busy weeknight.
Fennel just can't seem to break into the big time. Although it's readily available, it remains a mystery to many people. Even those who've eaten it have no idea how to cook it.  And yet, it's delicious, versatile, and compatible with a wide range of protein dishes. Fish and shellfish love its mild licorice flavor; pork and duck revel in its delicate sweetness. Served raw in salads and slaws, fennel can be bright and refreshing, but—when it's cooked—it turns mellow and soothing.
Serving suggestions: This dish goes beautifully with pork, duck. and seafood. I suspect it would also be delicious with lamb, but I've never tried that pairing. I love it with Shrimp Marinara, Zuppa di Pesce, and Grilled Pork Chops with Pomegranate Glaze. The zuppa and the pork will appear in posts within the next month. Stay tuned…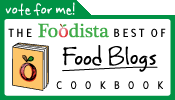 Note: Cooking time varies with bulb size. Also, the fennel's optimal texture really is a matter of taste. As I mention in the voicethread on roasting fennel (the link appears in Step #1 below), my husband prefers it soft, whereas my son and I like it crisp-tender. You should try it both ways…
Special Note: This recipe was ranked #7 on the Foodbuzz Top 9 on Friday, November 20, 2009.
Fennel with Garlic and Parsley
4 medium

fennel bulbs

, about 1 ½ pounds, stalks trimmed, fronds reserved

1 tablespoon extra virgin olive oil
2 teaspoons minced garlic
1 tablespoon minced flat-leaf parsley, plus more for garnish if desired
Salt and freshly ground black pepper to taste
Preheat the oven to 450°F. Halve the fennel bulbs lengthwise and remove the cores. Place the cut sides of each bulb together and wrap each bulb tightly in a foil packet. Arrange the packets on a baking sheet and roast for 25 to 30 minutes, until it is crisp-tender, or longer if a softer texture is desired. Wearing protective gloves, transfer them to a cool baking sheet and open the packets completely to stop the cooking. When the fennel is cool enough to handle, drain well and cut each half lengthwise into ⅓-inch slices. (Do not be concerned if the layers of the slices separate.)
Chop 2 tablespoons of fennel fronds and set aside.
Heat a large nonstick skillet over medium heat. Add the oil in a little pool. D0 not spread it around. When it is hot, add the garlic and parsley to the pool and cook about 1 minute, gently stirring to coat without dispersing the pool.  When the garlic mixture becomes fragrant, spread it over the entire skillet and add the fennel. Season to taste with salt and pepper and increase the heat to medium-high. Cook for 5 minutes, stirring and tossing often, until the fennel is lightly browned. Sprinkle with 2 tablespoons of the chopped fronds or parsley if using. Serve immediately.
Makes 4 servings
Per serving: Calories 71, 3 g total fat, trace saturated fat, 0 mg cholesterol, 12 g total carbohydrate, 5 g dietary fiber, 2 g protein, 82 mg sodium.