STRATEGY SESSION: My approach to this recipe has two components: moderating the glycemic load and substitution. Like all legumes, cannellini beans have a low glycemic index, but they are very carbohydrate-dense. Since GL is a function of GI and carbohydrate density (CD), I can moderate the GL by adding components that are lower in CD  than the beans. Escarole and onion meet that requirement. The sausage adds complexity and depth of flavor, but you don't need the full fat variety. I substitute turkey kielbasa for pork.
This mother's memory of her child is—at least in part- a history of meals, and I could have called this post "Sam's Life-in-Food Soup". As a tot, my son loved both beans and soup. If they coincided, as they did in my father's minestrone, so much the better. He was also a lettuce-lover from the get-go- and we were the envy of friends whose children wouldn't touch anything green. In college, he developed a taste for heat and spice, and he returned from a semester in Rome an expert on Parmigiano-Reggiano. This soup is all about him and he eats it with that knowledge; but even if it isn't all about you, it's still a very good soup.
Note: I've only used kielbasa in this soup, but I believe any reduced fat sausage would work.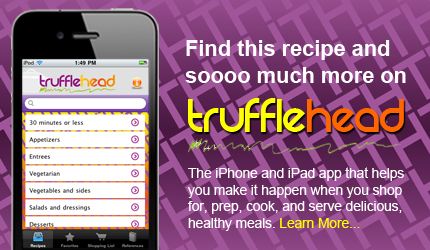 Trufflehead is now available for the iPhone and iPad in the App Store.
For more content, check out the Trufflehead food blog at trufflehead.com.