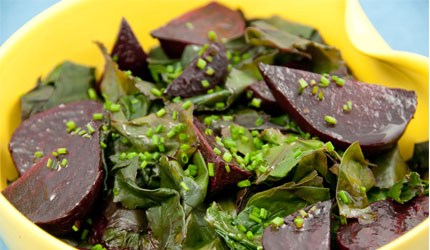 STRATEGY SESSION: My approach to this dish involves 2 tactics- foil roasting and combining high and low glycemic elements. Roasting the beets in foil intensifies their flavor. Their high glycemic index is offset by the low-GI greens. Both components have low carbohydrate density, so the contribution to glycemic load is modest.
Many years ago, when I was a graduate student in English and American Literature at Brandeis University, I read a medieval drama entitled The Second Shepherd's Play. At its climax, a stolen sheep disguised as a child wriggles out of its bunting, revealing the thief and the moral lesson: "The truth will out, even if it must creep." Living proof is all around us, from Bernie Madoff to the balloon boy hoax—which brings me to my favorite beet salad. There's no point in trying to deceive you: This recipe is work!
The beets must be scrubbed, wrapped, roasted, peeled, and quartered; the greens must be stemmed, washed, blanched, dried, and- if you like-chopped. By the end of this decathlon, I'm invariably tired and cranky, so I put off the final step until the following day. Then, feeling rested and virtuous, I toss these precious elements in the simplest of dressings and sit down to a gorgeous, delicious, unbelievably healthy salad. It's worth the effort every time!
If you serve the salad as an appetizer and wish to make it more substantial, you can sprinkle it with some crumbled feta or goat cheese before adding the chives, but be aware that the beets will stain the cheese. Finally, if you're wondering whether to chop or not to chop: Chopped greens are probably more convenient to eat, but they're not nearly as beautiful. As you may be able to discern from the photo, I'm in the "not-to-chop" camp.
Serving Suggestions: The subtle sweetness of this salad makes it a terrific accompaniment to grilled or roasted pork, duck, and turkey. I've also enjoyed  it with grilled veal chops that I've marinated in olive oil, Balsamic vinegar or lemon juice, garlic, and rosemary. I'm even planning to contribute it to a friend's Thanksgiving dinner because it can be prepared in advance, travels well, and adds color and sweetness to the plates of cranberry haters. I suspect that it would be good with grilled or broiled fish, but this is just an educated guess. If you have any leftover, it's delicious with hard-boiled eggs or egg salad, tuna or other seafood salad (e.g. lobster or shrimp), as well as salads made with smoked trout or whitefish.  It would probably be great with pickled herring, though I haven't eaten that in 30 years.
Note: The method for wrapping and roasting the beets is analogous to the one for foil roasting fennel, so I have linked direction #3 to the fennel voicethread, but remember that the beets are NOT cut in half.
Salad of Roasted Beets, Their Greens, and Chives
4 bunches of beets with fresh-looking greens, beets 2″ to 2½" in diameter, approximately 5 pounds total
2 teaspoons extra virgin olive oil, or more if needed
1 to 2 tablespoons balsamic vinegar
Salt and freshly ground black pepper
1 to 2 tablespoons finely chopped fresh chives
Preheat the oven to 400°.
Separate the beets from the greens by cutting through the stems about 1 inch above each beet. Set the greens aside.
Wash and dry the beets. Wrap 1 or 2 (if small) tightly in a foil packet and place on a baking sheet. Roast approximately 1 hour until tender when pierced with a fork. Wearing protective gloves, open the packets to release the steam. When the beets are cool enough to handle, trim the ends, peel, and quarter. Reserve any juice in the bottom of the packets.
While the beets are roasting, remove and discard the stems, wash the greens, and drain in a colander.
Bring a large pot of water to a boil. Blanch the greens for 1 minute. Transfer to a cold water bath to stop the cooking. Dry between layers of paper towels. Roughly chop the greens, if you wish, and set aside. (Beets and greens may be prepared to this point 1 day in advance and refrigerated. They can be warmed in a microwave, if desired.)
In a small bowl or measuring cup, combine the oil with the vinegar and any reserved beet juices. Whisk to blend and add salt and pepper to taste. Mound the beets on top of the leaves, and drizzle with the dressing. Toss or not, whichever you prefer. Garnish with the chives. Serve warm, at room temperature, or chilled.
Makes 6 servings
Per serving: Calories 113, 2 g total fat, trace saturated fat, 0 mg cholesterol, 22 g total carbohydrate, 7 g dietary fiber, 4 g protein, 222 mg sodium.