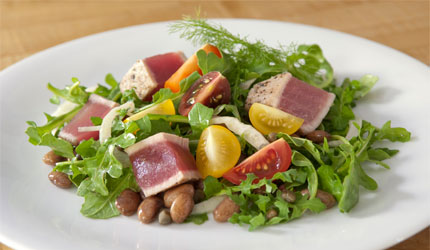 STRATEGY SESSION: Tuna is my main strategic ally in this recipe. Because it is served rare, it retains most of its natural moisture and does not require much additional fat. The moisture  factor is also increased by creamy beans, juicy tomatoes, and dressing- a light vinaigrette employing just 1 tablespoon of oil (less than 1 teaspoon per serving). Anchovy paste, Dijon mustard, and capers pump up the flavor.

Hold the mayo!! This tuna salad is a far cry from the kind you spread between two slices of bread. Instead of canned tuna with celery and commercial mayonnaise, it's got fresh tuna with fennel in a tart vinaigrette. If you can get "sushi grade" tuna, by all means eat it rare; otherwise, cook it to medium-rare or  medium for safety. If you don't have fresh tuna of any kind (or the time to cook it), this salad is also delicious with canned tuna or salmon. You could also make it with boiled or grilled shrimp. Substitute your favorite beans for the pintos if you like.
Note: The recipe specifies "sushi grade" tuna because the tuna is practically raw in this preparation. It is not always available, and- even when it is- there is no guarantee that your particular market adheres to industry standards. If you have questions about whether your market's tuna is really sushi grade, you should ask them directly. If you have any doubts, don't eat it rare. Also, certain kinds of tuna qualify as sustainable seafood choices. For information on these species, consult Monterey Bay Aquarium's Seafood WATCH.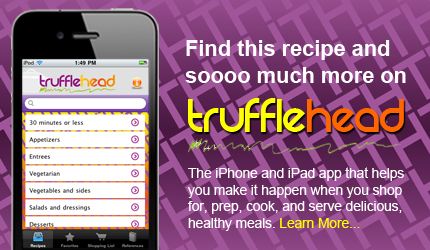 Trufflehead is now available for the iPhone and iPad in the App Store.
For more content, check out the Trufflehead food blog at trufflehead.com.