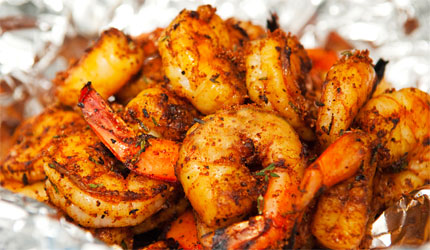 STRATEGY SESSION: By featuring shrimp in this recipe, I automatically keep total fat, saturated fat, and calories low. Because, in my opinion, the flavor of olive oil would not be compatible with this dish, I use macadamia nut oil, the healthiest of all neutral culinary oils.
The holidays exhaust me. The weather in New England becomes a challenge and everything bogs down. The stores are crowded, the lines long; everyone seems grouchy. Cooking obligations multiply and quantities escalate. Prep-work and clean-up balloon and threaten to overwhelm.
As I slog through the weeks between Thanksgiving and New Year's, I notice that an increasing number of self-conversations begin "When this is over…" or "After the first of the year…". These preambles generally lead into fantasies about simplifying life-especially my cooking life.
At such times, I rely on recipes that require no thought and little effort. These dishes often involve advance preparation of a single component that has the power to transform good ingredients into something great. Marinara sauce is one example, and this smoky barbecue rub is another. They'll both keep in the freezer for up to 6 months, and — during that time- they give real meaning to the phrase "I'm there for you."
I get two kinds of satisfaction from this practice. First, I feel comforted by the knowledge that my frozen friends are available at a moment's notice. And then, when I actually put one of them to use, I feel as though someone has taken care of me. That I've done it myself is beside the point.
Serving Suggestions: Without a doubt, my favorite accompaniment is black beans in almost any form. (Try Amazing Black Beans with a Sofrito.) Cole slaw would be another excellent choice.
Note: This recipe is now exclusively available on Trufflehead, my healthy cooking app for iPhone and iPad. It has been on Apple's New and Noteworthy, Top 25 Lifestyle, and What's Hot featured iPhone app lists (January 2012). You can click the ad below to read about Trufflehead on iTunes and you can see it in action in the accompanying video.
For a free taste of Trufflehead, you can download Trufflehead Starter
.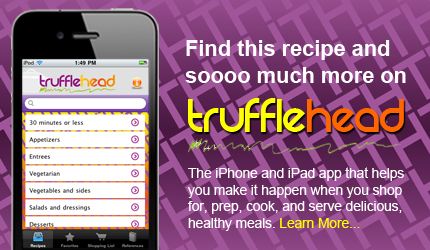 Trufflehead is now available for the iPhone and iPad in the App Store. For more content, check out the Trufflehead food blog at trufflehead.com.
I'm now producing high-quality, low-cost cooking apps for fellow food bloggers. If you are a food blogger, and you're interested in turning your recipes into an iOS app, I invite you to visit the Mobile Skillet website.