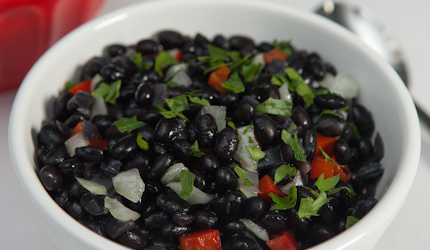 STRATEGY SESSION: Even in its original form, this recipe is very healthy. However, there's almost always room for improvement. To reduce fat and calories, I decrease the oil by 1/3. Then, I upgrade the type of fat by replacing canola (58% monounsaturated) with olive oil (77%), which also adds flavor. To lower the glycemic load, I substitute homemade beans for canned ones, and there's a flavor advantage here as well. I multiply that advantage by omitting the water and using the delicious cooking liquid from my beans instead. This change also reduces the cooking time from 30 minutes to 5!
I grew up in Miami surrounded by Cuban and Caribbean food, so I was exposed very early to the sofrito, the flavor base of those cuisines.  The sofrito of my childhood contained olive oil, onions, green peppers, garlic, oregano, and cumin. In the recipe below, red peppers stand in for green ones, and the oregano is out, but the basic formula is there.
I use distilled instead of white wine vinegar because it adds, in my view,  a more interesting sour counterpoint to the brown sugar. And, since my Cuban and Caribbean mentors never used white wine vinegar, I believe distilled white vinegar makes the dish more authentic.
Serving suggestions: These beans complement any simple grilled meat, poultry, or fish; but I love them with Bobby Flay's Caribbean-Spiced Chicken with Yogurt-Mango Sauce  and this ancho-and-cocoa-dusted flank steak from Gourmet Magazine.
Note: The quantity of cumin specified may seem very small, but it really is in balance with the other flavors and it does not overwhelm the subtle flavor of the beans.
Amazing Black Beans with a Sofrito
 Adapted from Simple Black Beans (Caraotas Negras)
1 tablespoon extra virgin olive oil
1 cup chopped onion
¾ cup chopped red pepper
1½ teaspoons minced garlic
½ teaspoon light brown sugar
¼ teaspoon ground cumin
4 cups Amazing Black Beans with the cooking liquid that clings to them, more if needed
Salt and freshly ground black pepper to taste
1 teaspoon distilled white vinegar
Minced parsley for garnish (optional)
Heat the oil in a large deep nonstick skillet over medium heat. When it is hot, add the chopped onion and red pepper and cook, stirring occasionally, for 5 to 7 minutes, or until tender. Add the garlic, brown sugar, and cumin, and cook 1 minute longer.
Add the black beans and enough liquid to moisten the mixture. Stir to combine and season with salt and pepper. Bring to a boil over medium-high heat. Reduce the heat to low and simmer, stirring occasionally, until just heated through, about 5 minutes. Add a little more bean cooking liquid, or 1 to 2 tablespoons of water, if needed. Remove from heat and stir in the vinegar. Serve immediately, garnished with parsley, if desired.
 Makes 8 servings
Per serving: Calories 150, 1 g total fat, 0 saturated fat, 0 mg cholesterol, 15 g total carbohydrate, 6 g dietary fiber, 8 g protein, 180 mg sodium.