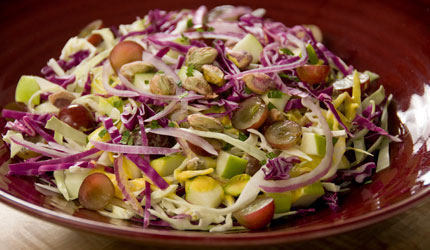 [donotprint]STRATEGY SESSION: This recipe's ingredients are all low in calories and fat. With respect to glycemic index, apples and grapes have relatively low values and the veggies' GIs are very low. Together they balance the high-GI o.j. concentrate in the dressing. In this way, the glycemic load of the dish is moderated. As usual, I substitute reduced fat yogurt and mayo for their full-fat counterparts.
Among the 40 listings in Trufflehead's "Salads and Dressings" category, you'll find 7 slaws: Cole Slaw with Peppers, Fennel-Pepper Slaw with Ginger, Fresh Pineapple Slaw, Hot and Sweet Asian Slaw, Pink Grapefruit Slaw, Sesame Slaw with Peapods, as well as today's recipe. Would you say that's many or few? It's true that
epicurious.com
offers 20 times that number, but their recipes provide no support for inexperienced cooks. Trufflehead, on the other hand, operates on the assumption that the user is cooking from scratch in the most personal sense.
For this curried slaw, the TH support system includes hyperlinked images of fresh mint, green cabbage, red onion, and Granny Smiths along with selection and storage info. It offers embedded demos on measuring dry ingredients, grating orange zest, chopping mint, chopping apples, shredding cabbage, and slicing onions. And, in case any equipment items stump the novice, it provides visuals for those too. Do these goodies make 1 Trufflehead slaw worth 20 from
Epicurious
? I hope someone will think so. And now, from Trufflehead…   When you've got Indian food on the brain, but little time on your hands, this salad might be the answer. It's a collocation of crisp veggies and fruits with a creamy, citrus-y, spicy dressing. Mint cools it; pistachios add a nice crunch. It can give an exotic touch to simple grilled meats, poultry, or seafood. If you're feeling inspired, serve it with Spiced Turkey Kebabs or Lamb Chops Marinated in Spiced Yogurt. Bend the zest, curry powder, and mint quantities to your whim. The zest adds zip, but—in a pinch—you can leave it out
.[/donotprint]
Curried Slaw with Fruit and Pistachios
½ cup nonfat or low-fat plain yogurt
2 tablespoons light or low-fat mayonnaise, preferably Hellmann's
2 tablespoons frozen orange juice concentrate, thawed
1 teaspoon grated orange zest
2 tablespoons chopped fresh mint (leaves from about ½ small bunch)
1 teaspoon curry powder, or to taste
Salt
Freshly ground black pepper to taste
1 small green cabbage, finely shredded (4 cups)
½ small red onion, thinly sliced (¼ cup)
15 seedless red or green grapes, preferably organic, halved (½ cup)
1 Granny Smith apple, preferably organic, cored and coarsely chopped (¾ cup)
¼ cup shelled dry-roasted pistachios, salted or unsalted
In a small bowl or measuring cup, combine the yogurt, mayonnaise, orange juice concentrate, orange zest, mint, and curry powder. Whisk to blend. Season with salt and pepper to taste. (May be prepared up to 24 hours in advance and refrigerated in a covered container.)
In a large bowl, combine the cabbage, onion, grapes, and apple. Add dressing plus salt and pepper to taste; toss well to coat. Sprinkle pistachios on top and serve.
Makes 6 servings
P
er serving: 94 calories, 4 g total fat, 0 g saturated fat, 0 mg cholesterol, 14 g total carbohydrate, 2 g dietary fiber, 3 g protein, 265 mg sodium.