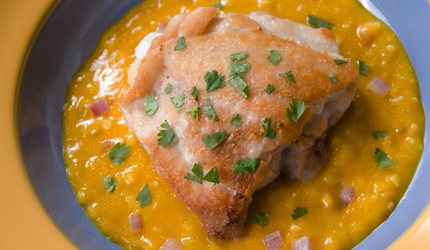 STRATEGY SESSION:  In this recipe, Chicken Liposuction gives me a huge assist in keeping fat and calories low. A small amount of added fat is required for browning the thighs, but I use macadamia nut oil- the healthiest non-olive culinary oil. High-glycemic mango is counter-balanced by the onions, ginger, and garlic-which have a low GI and low carb density. In this way, the glycemic load of the finished dish is moderated.
Madhu Gadía is a nationally recognized author and speaker, nutrition counselor, and diabetes educator, but to me she's been a tutelary spirit and indispensable guide to Indian cooking. About 10 years ago, I became addicted to her mother's garam masala, which Madhu shares in New Indian Home Cooking. I've reproduced it here with her permission. Bay leaves and ground ginger give it a distinctive flavor. Even if you already have a favorite recipe for garam masala, you owe it to yourself to give this one a try. I make a large batch of it about once a year and store it in the freezer in an air-tight container. In a pinch, you can use a commercial brand, but there really is no comparison.
If you love Indian cuisine and your health, you must visit Madhu's website, www.madhugadia.com. You'll find other delicious recipes there, as well as an e-recipe sign-up and helpful cooking videos. Madhu's most recent book is The Indian Vegan Kitchen: More than 150 Quick and Healthy Homestyle Recipes.
Note: You can certainly use all yellow or all red onion in the recipe. I happen to like the flavor and appearance of the combination.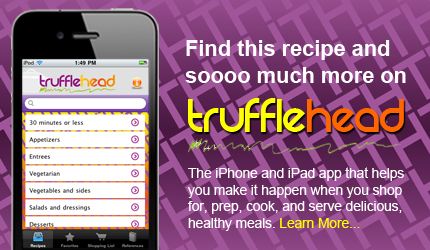 Trufflehead is now available for the iPhone and iPad in the App Store.
For more content, check out the Trufflehead food blog at trufflehead.com.