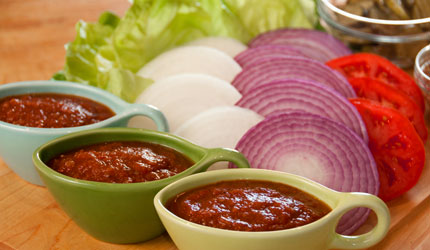 STRATEGY SESSION: As usual, my goals here are to keep fat and calories low, flavor high, and glycemic load under control. To those ends, I start with a fruit (tomatoes) and vegetables (garlic and onions) that are naturally low in calories and contain virtually no fat. Each of these ingredients has a relatively low glycemic index  and, collectively, they balance the high GI of the sugar. In that way, the glycemic load  is moderated.
I wish I had the energy for canning and preserving, but I don't. Nevertheless, I love squirreling away a few remnants of summer's bounty, and homemade ketchup is just my speed. For ketchup, freezing works just fine and doesn't require sterilized jars, pectin, and all that. It's still a bit of a project—especially if you grill the tomatoes first-but it's well worth the effort. When you pull it out in January, the work will seem as irrelevant as your bikini.
If you insist upon perfect homogeneity, you can put the ketchup through the food mill twice (large holes first, then small ones). However, if you don't mind a little texture, take the low road and just use the disc with the large holes. You'll end up with a very thick sauce with a little veggie fragment here and there, but you won't care. You'll just want to hug yourself.
By the way, if you're wondering how this ketchup stacks up nutritionally against its commercial cousins, here's the scoop: Compared to Heinz ketchup, this one contains 40% fewer calories, half the carbs, and 75% less sodium. Sweet!
Serving Suggestions: Perfect on burgers, of course, and anything else you'd use the commercial stuff on. Add a little prepared horseradish and substitute it for bottled chili sauce it in a shrimp cocktail. Combine it with light mayo for a dynamite Russian dressing.
Charred Tomato Ketchup 
8 large vine-ripe tomatoes (about 1 pound each), cored and halved horizontally
Olive oil spray
1 cup finely chopped onion
½ cup malt vinegar
¼ cup sugar
2 teaspoons minced garlic
2 teaspoons minced ginger
1½ teaspoons kosher salt
1 teaspoon smoked paprika
¼ teaspoon ground cinnamon
¼ teaspoon ground cloves
¼ teaspoon ground mace
¼ teaspoon ground allspice
¼ teaspoon freshly ground black pepper
¹/8 teaspoon cayenne pepper 
Prepare the grill with an oiled rack and preheat to high.
Lightly coat the tomatoes on both sides with the oil spray. Grill cut side up for 2 to 3 minutes until skin is nicely charred and blistered. Turn and grill for another 1 to 2 minutes until slightly charred. (Don't be concerned if they stick a little. Just loosen with a spatula.) Remove from heat and set aside to cool in a nonreactive container. When cool enough to handle, cut into 1½ -inch chunks. (Tomatoes may be prepared to this point up to 3 days in advance.)
Place tomatoes in a large (5- to 6-quart) nonreactive saucepan or large deep skillet. Add the onions, vinegar, sugar, garlic, ginger, salt, and spices. Stir to blend. Bring to a boil over medium-high heat. Reduce heat to medium and simmer for 1 hour, stirring occasionally.
Use a food mill to puree the mixture and return it to the saucepan. Bring to a simmer over medium-high heat. Reduce heat to medium and cook, stirring occasionally, for 1 hour or longer or until a thick ketchup consistency is reached. Adjust seasoning. (You may want to use a splash screen to prevent splatters.)
Cool to room temperature. Use immediately or store, covered, in the refrigerator for up to 3 weeks, or in the freezer for up to 6 months.
Makes about 5 cups (80 tablespoons) 
Per (1-tablespoon) serving: 9 calories, 0 g total fat, 0 g saturated fat, 0 mg cholesterol, 2 g total carbohydrate, 1 g dietary fiber, 1 g protein, 52 mg sodium.