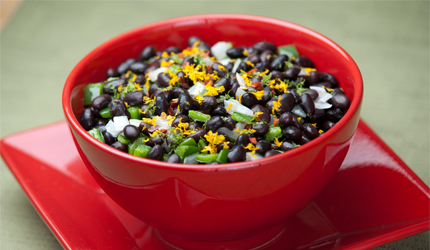 STRATEGY SESSION: Here's another of those situations in which my job is to get out of the way and let the ingredients speak for themselves.  My sole strategic contribution lies in moderating the glycemic load. Black beans have a low glycemic index, but they are very carbohydrate-dense. Since GL is a function of GI and carbohydrate density (CD), I moderate the GL by adding components that are lower in CD  than the beans. The poblanos, onions and garlic all meet that requirement.
I'm a traitor to my roots, and I stand ashamed before the Cuban, Nicaraguan, and Dominican friends of my youth, whose mothers all cooked with sour orange (naranja agria). It's just so hard to drag myself to the Hispanic market two towns over. So, like other corner-cutting cooks, I simulate it with a mixture of conventional orange and lime juices and zest. In the setting of this black bean stew, it's good enough to evoke the memory of the real thing.
If you can't face dried beans, you can substitute 3 cups canned black beans, rinsed and drained. Put them in a saucepan and start with step #2, but decrease the sherry, balsamic vinegar, and soy sauce by half and add a few tablespoons of water or vegetable broth. If the beans seem dry during the cooking process, add a little more water or broth. 
Serving suggestions: I've served these beans with a plain grilled chicken breast, grilled pork chops, and a mole-schmeared roasted turkey breast. I'm sure they would be tasty with grilled shrimp or other grilled seafood as well.
Black Bean Stew with Poblanos and Faux Sour Orange
½ pound dried black beans, picked over and rinsed
1½ cups chopped onion, divided
4 cups water
¼ teaspoon salt, plus more if desired
2 tablespoons Amontillado sherry
1½ teaspoons balsamic vinegar
1½ teaspoons soy sauce
1 tablespoon olive oil
¼ teaspoon cumin seed
½ teaspoon hot red pepper flakes
½ cup chopped poblano pepper
2 teaspoons minced garlic
¼ cup orange juice
2 tablespoons lime juice
1 teaspoon grated orange zest
½ teaspoon grated lime zest
Freshly ground black pepper
2 tablespoons minced parsley or cilantro, optional
Place beans in a medium saucepan. Add ¾ cup of the chopped onion, water, and ¼ teaspoon salt, and bring to a boil over high heat. Cover, reduce heat to low, and cook 1¼ to 1½ hours, until beans are just tender, or longer if a softer consistency is desired. (Cooking time varies with the age of the beans.)
Stir in the sherry, vinegar, and soy sauce. Cook, uncovered, 5 minutes longer. Remove from heat.
Place a large nonstick skillet over medium-high heat. When it is hot, reduce heat to medium and add the oil in a little pool. Do not spread it around. When the oil is hot, add the cumin seed and red pepper flakes to the pool. Cook 1 to 2 minutes until seeds start to darken, gently stirring without dispersing the pool. Spread the oil mixture over the entire surface of the skillet and add the remaining ¾ cup onion along with the poblano. Cook about 5 minutes, stirring often, until the onion is translucent and the pepper is tender. Add the garlic and cook 1 minute longer.
Add the bean mixture, juices, and zests. Bring to a boil over medium-high heat. Reduce heat to low and simmer, uncovered, for 15 to 20 minutes, or until sauce has thickened and is no longer runny. Season with salt and black pepper to taste. Serve garnished with the parsley or cilantro.   
Makes 6 servings
Per serving: 167 calories, 3 g total fat, trace saturated fat, 0 mg cholesterol, 27 g total carbohydrate, 8 g dietary fiber, 8 g protein, 177 mg sodium