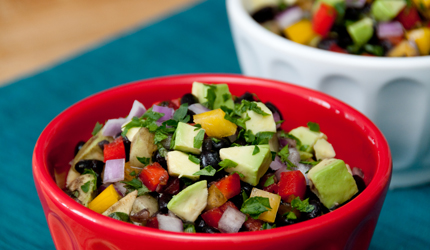 STRATEGY SESSION: Here's another of those situations in which my job is to get out of the way and let the ingredients speak for themselves.  My sole strategic contribution lies in moderating the glycemic load. Black beans have a low glycemic index, but they are very carbohydrate-dense. Since GL is a function of GI and carbohydrate density (CD), I moderate the GL by adding components that are lower in CD  than the beans. All of the vegetables in the recipe meet that requirement.
While the rest of the world is watching the Super Bowl today, I'll be making videos for Trufflehead- cranking out the last of the nearly 200 demos.  Hey, inexperienced cooks! These are for you!  They'll give you the help you need when you need it.  You won't have to stop truffleheading and start Googling to find out how to follow a recipe direction. You'll thank me for this some day.
Meanwhile, there will be S. B. fare for anyone who drops by- including this black bean salad. My son and husband can chow down on ribs and wings with the best of 'em, but they like the idea of healthy side dishes. (They like the reality too!) The few grams of fat come from the avocado, which appears here instead of in the usual guac.  Since you're not married to my husband, you can spice it up with cayenne pepper or chipotle powder. I just reach for the Tabasco.
So, I'll miss what I hope will be the defeat of the Steelers. An Aaron Rodgers triumph over Ben Roethlisberger and kindred spirit Brett Favre would be sweet.
Serving suggestions: This salad is great with anything grilled or barbecued, especially things with a Tex-Mex personality. A simple salad with last week's dressing on it would be a terrific accompaniment.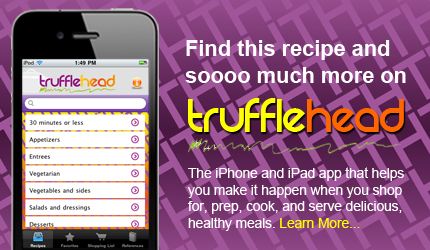 Trufflehead is now available for the iPhone and iPad in the App Store.
For more content, check out the Trufflehead food blog at trufflehead.com.