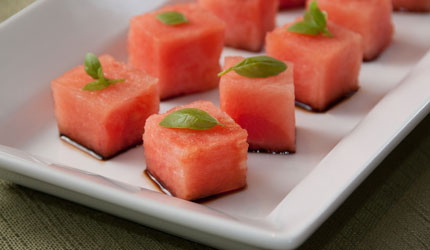 STRATEGY SESSION: I'm generally not a proponent of desserts because of their glycemic effects, but this one is pretty benign. Although watermelon has  a relatively high glycemic index, which does affect the glycemic load of the meal, it's ridiculously low in calories and contains no fat at all. Moreover, the protein and fat in the optional feta temper its glycemic impact. You could use reduced-fat feta, but I don't think it's really necessary.
Even though it's not yet Memorial Day, my inner cook is telling me that spring is over. I'd rather grill than braise—and you can forget about roasting altogether:  The last thing I want to do is turn on the oven. I have a friend in New York who's still making hot soups, but yesterday I found myself thinking about gazpacho. So, I've decided to give you the season as it's presented in Trufflehead. Starting today, the recipes will appear as they do in the app, with the same introductory text. Of course, the ADK version won't include the  ingredient IDs, Priority Organics tags, how-to demos, hyperlinked equipment lists, or smart shopping lists. You'll need the real thing for all that.
Basil and watermelon mean summer and they make a mean summer appetizer. The combo is more than the sum of its very few parts (only 3 ingredients, or 4 if you go with the optional feta). You do need good balsamic, though, to get the full effect. If you don't have any around, you can improve yours by simmering it in a saucepan until it becomes syrupy. Just keep your eye on it so that it neither boils over nor evaporates completely. For drizzling purposes, you'll want to reduce 1 cup commercial grade balsamic to about ¼ cup. By the way, this dish also works as a light, refreshing, sophisticated dessert.
Note: This recipe is now exclusively available on Trufflehead, my healthy cooking app for iPhone and iPad. It was selected as one of Apple's "New and Noteworthy" featured apps on January 5th, 2012. You can click the ad below to read about Trufflehead on iTunes and you can see it in action in the accompanying video.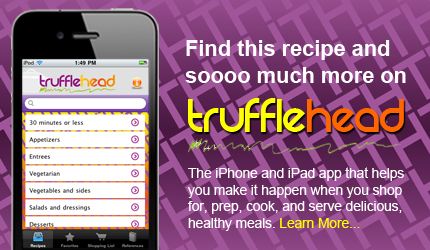 Trufflehead is now available for the iPhone and iPad in the App Store. For more content, check out the Trufflehead food blog at trufflehead.com.