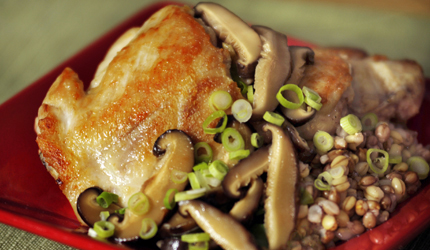 STRATEGY SESSION:  In this recipe, Chicken Liposuction gives me a huge assist in keeping fat and calories low. A small amount of added fat is required for browning the thighs, but I use macadamia nut oil- the healthiest non-olive culinary oil. High-glycemic sugar is counter-balanced by the mushrooms, garlic, and scallions-which have a low GI and low carb density. In this way, the glycemic load of the finished dish is moderated.
If you are a reader of these columns, you know that—in the region of food- my husband and I diverge like two paths in a yellow wood. And yet, there's the occasional intersection, and this recipe affords one. He'll eat mushrooms in virtually any form (unless I make them too spicy), and I'll eat them too, if they happen to be interesting mushrooms in good company. Chinese black mushrooms (dried shiitakes) fit the bill—and their effect is magnified by the soaking liquid, which becomes the basis of the sauce.
I know there are people in the world who hate chicken thighs. My son is among them, as is a friend of mine who is a skilled and adventurous cook. I don't get it. Chicken thighs have more flavor than breast meat. They also tolerate braising and grilling better because their higher fat content makes them less vulnerable to drying out. However, if you hate them too, you can use chicken breasts, but you may have to adjust the cooking time: Breasts of comparable weight will cook faster.
Re the mushrooms: They tend to be gritty and should be washed thoroughly after soaking. In addition, it's absolutely necessary to strain the soaking liquid. I use a Melitta coffee cone and filter, but you could also line a strainer with a damp paper towel (the method in the directions below). A fine mesh sieve is inadequate to catch the powdery grit.
Serving suggestions: I serve these thighs with hulless barley and steamed snow peas or sugar snaps tossed in a little sesame oil and sprinkled with sesame seeds.
Note: In my opinion, the best oyster sauce is made in Thailand by Chuew Huad Co. and distributed by Tra Maekrua Co. The front of the label says "Maekrua Oyster Sauce".  It is available in Asian markets. However, other brands are probably fine and may be more widely available. For a photo of the label, check this week's Odds & Ends column.
Black Mushroom Chicken Thighs
1 ounce dried Chinese black mushrooms (dried shiitake mushrooms)
1½ cups boiling water
1 tablespoon macadamia nut oil or canola oil
¼ cup oyster sauce
2 teaspoons sugar
2 tablespoons rice wine or dry sherry
6 large bone-in chicken thighs (about 2 ½ pounds total), skin and visible fat removed
Salt
Freshly ground black pepper
½ cup thinly sliced scallions, divided
1 tablespoon minced garlic
1 tablespoon minced ginger
Place the mushrooms in a medium heat-proof bowl or measuring cup and pour the boiling water over them. Soak at least 20 minutes, stirring occasionally, or until cool. Reserving the liquid, remove the mushrooms and rinse well under cold running water, rubbing off any grit. Press gently between layers of paper towels to remove excess water. Remove stems and thinly slice. Set aside.
Wet a paper towel and squeeze out as much water as possible. Place the paper towel inside a strainer and set the strainer over a measuring cup. Pour the mushroom soaking liquid through the lined strainer and set aside.
Place the oyster sauce in a small bowl or measuring cup. Add the sugar and whisk vigorously to blend. Add the rice wine and whisk again. Set aside.
Season the chicken generously with salt and pepper.
Place a large nonstick skillet over medium-high heat. When it is hot, add the oil. When it is hot, add the chicken thighs, skinned side down. Brown well on both sides, about 10 minutes total. Remove to a bowl.
Add ¼ cup of the scallions to the skillet along with the garlic and ginger. Stir-fry for 30 seconds. Add the sliced mushrooms, the reserved soaking liquid, and the oyster sauce mixture. Stir to blend, scraping up the brown bits. Return the thighs to the skillet, skinned side down, along with any collected juices. Cover, reduce heat to low and cook 10 minutes. Turn the thighs, cover, and continue cooking about 10 minutes longer or until cooked through and the juices run clear. Remove to a serving dish.
Raise the heat to high and reduce the liquid until syrupy. Add more salt and pepper if needed. Spoon the sauce over the chicken and garnish with the remaining scallions.
Makes 6 servings
Per serving: 174 calories, 7 g total fat, 1 g saturated fat, 90 mg cholesterol, 6 g total carbohydrate, 1 g dietary fiber, 22 g protein, 380 mg sodium.