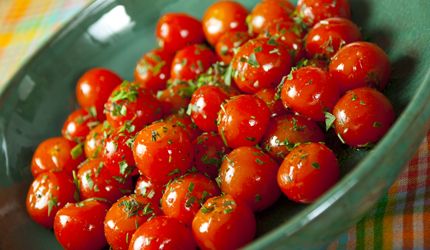 [donotprint]STRATEGY SESSION: Tomatoes are naturally low in fat and they have a fairly low 
glycemic index
. They make  a small contribution to the 
glycemic load
 of a meal. 
  From  the beginning of the Trufflehead project, my son has been my imaginary prototypical  reader. (I know it's much more hip to say
user
, but I really view the app as an annotated electronic cookbook.) Anything he ever wanted to know about cooking (or I thought he
should
know) went into the stew. In a rare meta moment a couple of years ago, he asked me why certain foods went together while others didn't and how you could tell beforehand whether they would or wouldn't. Now, there are probably mothers who could have responded without taxing his 20-something-male tolerance, but I knew I wasn't one of them. I just left it at "Good question," but it stuck with me, and I decided to address the underlying need in the app. For Sam and other developing cooks, I've included serving suggestions with almost every recipe. In most cases, I've been able to offer specific TH pairings. But—where that wasn't possible—I've offered general recommendations, and here is a perfect example.
Last week's recipe
and the one below are both delicious with lamb. In my mind (and in my refrigerator), it's a roast leg, but it could be lamb chops or steaks, brochettes, or even patties. Because the side dishes are assertive, the lamb can be virtually plain. And since they're both ridiculously easy, you can spend your time on a spectacular appetizer or dessert if you happen to be preparing a holiday menu. (Come to think of it, you could add
Roasted Garlic Asparagus
without much more effort. ) One final tip: If you serve these sides together, you may want to omit the rosemary from one or the other to avoid duplication. Because I love the recipes as written, I rarely swap out the rosemary; but if I were to do it, I'd leave it in the beans (where I think it's critical) and add a different fresh herb (marjoram, mint, chervil, chives…) to the tomatoes. 
[/donotprint]
Skillet Cherry Tomatoes
1 tablespoon extra virgin olive oil
2 pints cherry or grape tomatoes or grape tomatoes
2  tablespoons minced flat-leaf parsley
2 teaspoons chopped fresh rosemary
2 teaspoons chopped fresh thyme
Salt
Freshly ground black pepper
Place a large nonstick skillet over medium heat. When hot, add the oil. When hot, add the tomatoes. Roll them around for several minutes until they start to crack.  Remove from heat. Add the parsley, rosemary, thyme, salt, and pepper. Toss and serve. 
Makes 4 servings
Per serving: 69 calories, 4 g total fat, trace saturated fat, 0 mg cholesterol, 8 g total carbohydrate, 2 g dietary fiber, 2 g protein, 18 mg sodium.