[donotprint]STRATEGY SESSION: Since fresh figs have a relatively low glycemic index, there's room for a tiny bit of  added sugar (1 teaspoon) in this dessert without materially affecting glycemic load. I minimize fat and calories by combining mascarpone, an amazingly rich full-fat cheese, with fat-free fromage blanc.
More than 30 summers ago, a boyfriend and I rented a house for a couple of weeks on Martha's Vineyard. I can see it now—all weathered wood and glass—and I have memory traces of a dinner party we hosted there. I remember the dessert—frozen Grand Marnier soufflés—and the care with which we scooped out the orange skins so we could fill them with the boozy cream. I also recall his mother's disdain on learning what we had made. Why, you might ask, would she have reacted that way? Well, she was a pathologically cheap individual who couldn't bear the thought of our buying oranges in August when we could have used less expensive seasonal fruit. It probably won't surprise you that this totally enraged us. We had endless conversations about her attitude's impact on his development. Since we're still friends, I won't get into the details, but let's just say it was grist for the psychoanalytic mill. What we never discussed, however, was the possibility that she might have been right—whatever her reasons. I bring this up because I saw fresh figs in the store yesterday. Trufflehead contains two nice fig recipes, and I've been waiting for months to share them. Now that the May-June crop is in, I can do it and feel good about it. If you make this lovely and almost effortless dessert, you won't be wasting your money and you won' be risking your mother-in-law's disdain. If she's not pathologically cheap (it still requires an orange!), she might even be impressed. Note: You don't have to buy a whole bottle of orange liqueur for this recipe. The major brands are available in "nips" (tiny bottles on display behind the counter in liquor stores). One nip is more than enough. 
[/donotprint]
Note: This recipe is now exclusively available on Trufflehead, my healthy cooking app for iPhone and iPad. It was selected as one of Apple's "New and Noteworthy" featured apps on January 5th, 2012. You can click the ad below to read about Trufflehead on iTunes and you can see it in action in the accompanying video.
[/donotprint]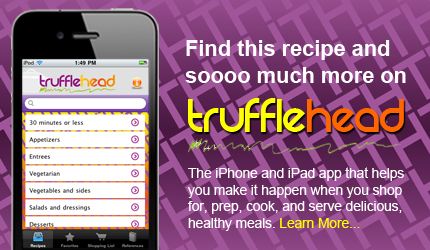 Trufflehead is now available for the iPhone and iPad in the
App Store
. For more content, check out the Trufflehead
food blog
at trufflehead.com.