STRATEGY SESSION: Georgie's approach to this Indonesian/Malaysian classic has several components. She minimizes fat and calories by selecting a lean protein and trimming it meticulously (as demonstrated in Pork Surgery). Then, she maximizes the monounsaturated fat content of the sauce by combining the peanut butter (only 8 g mono.  per tablespoon) with macadamia nut oil (14 g mono. per tablespoon) . Finally, she moderates the glycemic load of the entire dish by substituting Splenda for some of the sugar.
Although I've made several satays, I had never looked deeply into the subject  until I started working on this post. Did you know that Wikipedia identifies 28 different satays from Indonesia alone? The list of proteins is mind-blowing: pork, chicken, beef, spicy beef brisket, lamb, mutton, goat, goat or cow offal, "5-month-old kid", ayam kampung (a native breed of poultry), water buffalo, rabbit, "gizzard, liver, and intestines of…a migrating sea bird", milkfish, eel, horse meat, turtle, snake, chicken skin, immature chicken egg, chicken liver, and goat testicles.
While I was metabolizing this information (especially those goat testicles), I started to wonder about variability in the sauce as well. This actually mattered because I had read that "turmeric is a compulsory ingredient" in the marinade and Georgie's recipe didn't contain any.  I had to decide whether to request a revision. To my surprise (and relief) only 1 of the 9 recipes I found contained turmeric in any form.
However, my search yielded some interesting data on marinade/sauce ingredients. Basically, satay consists of a protein marinated in a combination of sweet, salt, acid, fat, aromatics, spices, and heat. All of the recipes contained some, but only one contained all. Here's what I found in each category:
SWEET: palm sugar, mirin, white sugar, brown sugar, dark brown sugar, peach nectar, seasoned rice vinegar (both sweet and acidic)
SALTY: salt, fish sauce, oyster sauce, soy sauce
ACIDIC: tamarind pulp (also somewhat sweet), dry white wine, sake, rice vinegar, lime juice, distilled white vinegar
FAT: vegetable oil, ground sesame seeds, peanut butter
AROMATICS: shallots, ginger, garlic, lemongrass
SPICES/HERBS: fresh whole or ground turmeric, whole coriander seeds, fresh cilantro
HEAT: sambal oelek, tobasco, cayenne
Georgie's in great shape with 6 out of 7: sweet/brown sugar, salty/tamari. acid/lemon juice, fat/ peanut butter & macadamia oil, aromatics/onion & garlic, heat/sriracha.
In her own words: "This recipe is all about the amazing sauce. The spicy and and savory peanut sauce brings very lean cuts of meat to life, and is wonderful spooned over cooked hulless barley or brown rice. This recipe can also be cooked on an indoor or outdoor grill, and works equally well with skinless chicken breast in place of the pork tenderloin. If you prefer a version without spice, omit the sriracha sauce or use a smaller amount."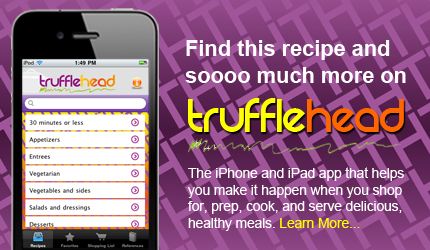 Trufflehead is now available for the iPhone and iPad in the App Store.
For more content, check out the Trufflehead food blog at trufflehead.com.