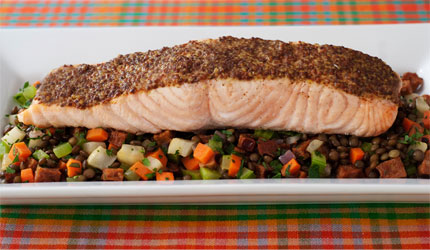 STRATEGY SESSION: In terms of minimizing fat and calories, salmon is my strategic ally here. It does not require added fat for cooking because it contains so much of its own (the good kind!). This is true even for dry methods such as broiling. In addition, the  mustard glaze protects the surface from drying out. On the carbohydrate front, lentils have a low glycemic index and they are less carbohydrate-dense than other beans. The glycemic load of the dish is further moderated by the vegetables. Finally, I substitute reduced-fat sausage for full-fat, which decreases the total fat, saturated fat, cholesterol, and calories of the finished dish.
On a miserable February night about 10 years ago, my husband and I wandered into a cozy bistro in Greenwich Village. I ordered salmon and lentils (one of the chalkboard specials), and the kitchen quickly translated it into a silky pink fillet on a bed of mottled green al dente beans. A drizzle of balsamic vinegar added just enough acid to balance the richness of the fish. While the wind howled, we filled our bellies and sipped wine.  Our toes thawed.
My version is a little different: less added fat,  some grainy mustard with a touch of sugar, and malt vinegar instead of balsamic. The bad news? Common brown lentils just won't do for the salad; you'll need French green ones.  
Serving suggestions: All you really need with this dish is a green salad, but it's great with roasted beets and sautéed beet greens. I also love it with Broccoli Rabe with Garlic and Hot Pepper (or escarole prepared the same way). The bitterness of the greens works nicely with the sausage.
Note: You can prepare the lentil salad without the dressing up to one day in advance. Add the dressing just before serving.
Broiled Salmon with Grainy Mustard Glaze and Warm Lentil Salad
1 cup French green lentils, picked over and rinsed
½ cup coarsely chopped carrots
½ cup coarsely chopped celery
1 tablespoons extra virgin olive oil
4 ounces turkey kielbasa, cut into ¼-inch cubes
½ cup coarsely chopped fennel, fronds reserved
½ cup chopped red onion
1 teaspoon minced garlic
Salt
Freshly ground black pepper
¼ cup whole grain mustard
1 tablespoon malt vinegar, or to taste
2 teaspoons sugar
2 tablespoons minced parsley
1½ pounds skinless salmon fillets
Place the lentils, carrots, celery in a large saucepan with 3 cups cold water and bring to a boil over high heat. Reduce the heat, cover, and simmer until lentils are just tender, about 20 minutes. Drain and transfer to a large bowl.
Heat a large nonstick skillet over medium-high heat. When hot, add the oil. When hot, add the kielbasa and brown lightly.  Add the fennel and red onion. Reduce the heat to medium and cook, stirring often, until crisp-tender, about 5 minutes.  Add the garlic and cook 1 minute longer. Add to the lentil mixture. Season generously with salt and pepper. Tent loosely with foil to keep warm.
In a small bowl or measuring cup combine vinegar, mustard, and sugar. Whisk to blend. Add 2 tablespoons to the lentil mixture. Toss gently to coat. Taste and add more vinegar if desired. Chop the fronds and sprinkle over the salad along with the minced parsley.
Preheat the broiler to high with the rack 6 inches from flame.
Season the salmon with salt and pepper. Place skinned side up on nonstick broiler pan. Broil 4 minutes. Turn and spread with the remaining mustard mixture. Broil 4 to 5 minutes to medium-rare, or longer depending on thickness and desired doneness. Serve immediately with the lentil salad.
Makes 6 servings
Per serving: 313 calories, 8 g total fat, 1 g saturated fat, 78 mg cholesterol, 24 g total carbohydrate, 11 g dietary fiber, 36 g protein, 367 mg sodium.