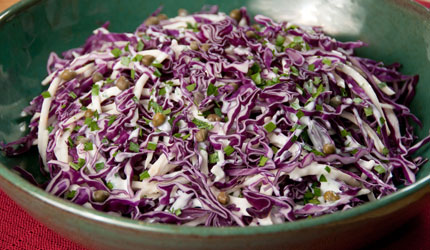 STRATEGY SESSION: As usual, my goals here are to keep fat and calories low, flavor high, and glycemic load under control. These ingredients make it easy. They're low in calories and fat, and both cabbage and celery root have a low glycemic index. To limit added fat, I used reduced-fat mayo and nonfat buttermilk. Their creaminess balances the acid of the vinegar and lemon juice.
At home, where it's under my de facto control, my husband's diet is fairly pristine; when we're in a restaurant, it's another story. During a recent dinner out, he ordered fried clams (!) which arrived with a little mound of red cabbage slaw. I declined his offer of a clam but did stick my fork into that slaw. There were capers in it, and the briny, creamy dressing brought to mind a celery root remoulade I used to make. I thought a combination of red cabbage and celery root might work. 
As it happened, I had ordered a lobster and ended up bringing most of it home in a doggie bag. The next day, I threw together a lobster salad and served it with the slaw. Move over, fried clams! This slaw doesn't need you.
Serving suggestions: The most perfect companions to this slaw would be lobster, crab, or shrimp salad. But salmon salad, hard boiled eggs, and egg salad aren't far behind.
Note: To shred the celery root, use a food processor fitted with a medium shredding disc or a disc for fine (3mm) julienne.
Special note: This recipe has been entered in today's Foodbuzz Top 9 competition. If you like the recipe (and/or the photo), Kateryna and I would really appreciate your help. To vote, go to http://tinyurl.com/rdcbgslw and click "buzz it" at the top of the page. Thanks very much for your support!
Red Cabbage and Celery Root Slaw
2 pounds celery root, scrubbed, peeled, and shredded (about 3 cups)
2 tablespoons lemon juice
½ cup light mayonnaise, preferably Hellmann's
3 tablespoons nonfat or low-fat buttermilk
1 tablespoon white wine vinegar
2 tablespoons capers, rinsed, drained, and dried between layers of paper towels
2 tablespoons minced parsley
3 cups shredded red cabbage
Salt
Freshly ground black pepper 
Place the shredded celery root in a large bowl and add the lemon juice. Toss to coat to prevent discoloration.
In a small bowl or measuring cup, combine the mayonnaise, buttermilk, and vinegar. Whisk to blend. Add the capers and parsley. Stir to blend.
Add the cabbage and dressing to the celery root and toss to coat. Season generously with salt and pepper. Refrigerate until ready to serve 
Makes 8 servings
Per serving: 53 calories, 3 g total fat, 1 g saturated fat, 6 mg cholesterol, 6 g total carbohydrate, 1 g dietary fiber, 1 g protein, 143 mg sodium.