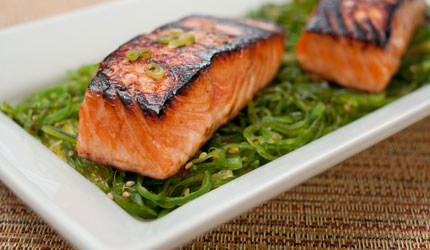 [donotprint]STRATEGY SESSION:  For what it's worth, reduced-sodium soy sauce is used in this recipe to lower sodium content. It still contains 575 mg sodium per tablespoon, but that's down from the 920 mg per tablespoon in regular soy sauce. Wakame is another major sodium offender, but it also has many virtues: It's extremely low in calories and  fat, and its low glycemic index is helpful here in balancing the high GIs of  the honey and mirin in the recipe. In addition, wakame is a good source of magnesium, iodine, calcium, iron,  vitamins A, C, E, and K as well as folate and riboflavin. It also contains cancer-fighting lignans. Not a bad profile over all. Finally, as everyone knows, the salmon provides healthy omega-free fats.
One of the dishes in Trufflehead's doppelgänger series is a teriyaki salmon-seaweed salad combo. Because an inexperienced cook might be challenged by the salmon alone, the simple version calls for bottled teriyaki sauce. The not-so-simple recipe, presented here,  assumes the salmon is no longer an issue and moves on to the sauce. There's nothing revolutionary about this one, but I think it hits all the right notes: gingery, garlick-y, scallion-y, and salty-sweet. Once you've had it, you won't be able to face the bottled stuff.
As I've lamented in the past, there's no getting around the sodium in Asian condiments. Even reduced-sodium soy sauce contains more than anyone needs. Unfortunately, it's also true that wakame packs a sodium wallop of its own. Since it's got plenty of other things to recommend it (see Strategy Session above), seaweed can be part of a healthy diet. But, if you're trying to eat salmon regularly, don't reach for this recipe every time. And, if you've got hypertension, you should skip it altogether.
Serving suggestions: If you eat brown rice,  it would be a nice addition. Alternatively, if you decide to skip the seaweed salad and make the salmon only, the sauce is yummy spooned over steamed veggies such as broccoli, green beans, sugar snaps, or snow peas.[/donotprint]
Teriyaki Salmon with Seaweed Salad (Not-so-Simple)
• ¼ cup reduced-sodium soy sauce • ¼ cup mirin • 1½ tablespoons honey • 1 tablespoon toasted sesame oil • 3 scallions, greens and whites separated, whites chopped and greens thinly sliced • 1 tablespoon minced fresh ginger • 1 tablespoon minced garlic • ¼ teaspoon hot red pepper flakes, plus more for seasoning wakame • 1¼ pounds skinless salmon fillets, cut into 4 pieces • ½ cup dried wakame seaweed • 1 tablespoon seasoned rice vinegar • 4 teaspoons toasted sesame seeds, divided • Cooking oil spray, preferably olive oil 1. In a small bowl or measuring cup, combine the soy sauce, mirin, honey, sesame oil, chopped scallion whites, ginger, garlic, and ¼ teaspoon red pepper flakes. Whisk to blend. Set aside 2. Place salmon in a zip-lock bag, plastic container, or glass baking dish. Add the soy mixture. Seal the bag, if using. Turn to coat. Marinate in the refrigerator for 2 to 3 hours. 3. Place the ried wakame in a medium bowl; cover with warm water and soak 5 to 10 minutes. Drain and squeeze out excess water. Transfer to a clean bowl and add the rice vinegar, 2 teaspoons sesame seeds, and hot pepper flakes to taste, if desired. Toss and divide among 4 plates. 4. Preheat the broiler with rack about 5 inches from the flame. Lightly coat a nonstick broiler pan with cooking spray. 5. Reserving the soy mixture, remove salmon from the bag. Place skin side up on the pan. Broil approximately 4 minutes. Turn, brush with a little marinade, and broil 4 to 6 minutes, until just barely cooked through. (Cooking time varies with thickness). Place on top of the seaweed salad. 6. Meanwhile, pour the soy mixture into a small saucepan. Bring to a boil over medium-high heat. Reduce heat to low and simmer 5 minutes, stirring occasionally, while salmon cooks. 7. When salmon is done, drizzle with a little of the boiled marinade. Sprinkle with remaining sesame seeds and sliced scallion greens. Serve hot, warm, at room temperature or chilled. Extra boiled marinade, at whatever temperature salmon is served, can be passed at the table.
Makes 4 servings
Per serving: 275 calories, 10 g total fat, 1 g saturated fat, 74 mg cholesterol, 12 g total carbohydrate, 1 g dietary fiber, 30 g protein, 912 mg sodium
.