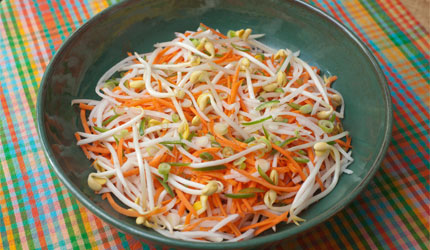 [donotprint]STRATEGY SESSION: In this recipe,  my only strategic contribution lies in moderating the glycemic load. Seaoned rice vinegar has a high glycemic index, but the vegetables have low GIs. Therefore, the GL of the dish is moderated.
For years, my son called me from the supermarket with questions such as "Are scallions those long skinny things with the hairy ends?" There must be parents all over the world receiving those calls right now, and I hate to deprive them of that pleasure, BUT their children won't have to call them after next month. Trufflehead features 200 ingredient IDs. If daikon radish is a mystery, users can simply tap the name: They'll immediately see an image of it with info on "how to pick a good one" (requested by my son, who only wants the best) and how to store it (requested by my husband, who hates wasting food). If they don't know what seasoned rice vinegar is, they can tap it to get an image and location/storage details. Sorry, your children will just have to call you for some other reason. Serving suggestions: This salad is great with spicy Asian food, such as
Korean-Style Hot Pepper Meat Bundles
or
Turkey-Zucchini Burgers with Vietnames Flavors and Hot Pink Mayonnaise
.
[/donotprint]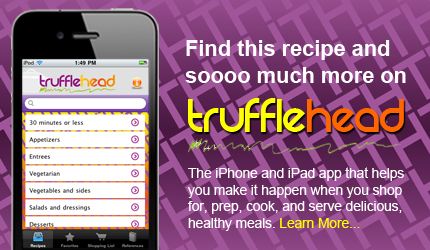 Trufflehead is now available for the iPhone and iPad in the
App Store
. For more content, check out the Trufflehead
food blog
at trufflehead.com.