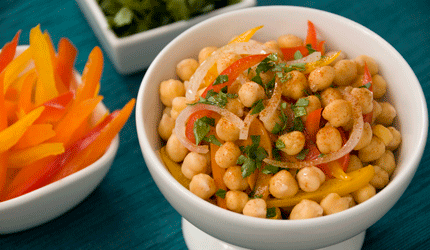 [donotprint]STRATEGY SESSION: You have to try hard to make beans unhealthy. My only strategic intervention here involves moderating the
glycemic load
. Like all legumes, chickpeas have a low
glycemic index
, but they are very carbohydrate-dense. Since GL is a function of GI and carbohydrate density (CD), I moderate the GL by adding components that are lower in CD  than the beans. The peppers and onions meet that requirement.
A classic Basque pipérade contains onions, green peppers, tomatoes, and piment d'Espelette. This one doesn't. It's got onions, but no tomatoes; red, yellow, and orange peppers instead of green; and pimentón dulce (smoked paprika) instead of the Basque chili. And oh, BTW, there's some cumin and a splash of sherry vinegar. OK, so maybe it's not exactly a pipérade, but it's delicious, looks grand, and travels well.  For best results, cook your own chickpeas.  Serving suggestions: I've served this dish with fried or poached eggs for breakfast, with turkey chorizo for lunch, and with lamb chops for dinner.
[/donotprint]
Note: This recipe is the second in a series from Trufflehead, my iPhone and iPad app, due out in March.
Chickpeas with a Smoky Pipérade
1 tablespoon extra virgin olive oil
1½ cups thinly sliced onion
1 cup thinly sliced red bell pepper
1 cup thinly sliced yellow bell pepper
1 cup thinly sliced orange bell pepper
1 tablespoon minced garlic
2 teaspoons smoked paprika (pimentón dulce, sweet)
½ teaspoon ground cumin, or to taste
2 tablespoons sherry vinegar
4 cups cooked chickpeas, drained, or canned chickpeas, rinsed and drained
Salt
Freshly ground black pepper
¼ cup minced flat-leaf parsley 
Place a large nonstick skillet over medium heat. When it is hot, add the oil. When it is hot, add the onion and peppers. Cook, stirring occasionally, 5 to 8 minutes, or until tender. Stir in the garlic, paprika, and cumin, and cook 1minute longer.
Add the vinegar and chickpeas. Season generously with salt and pepper. Cook, stirring often, until most of the vinegar has evaporated and the chickpeas are heated through, about 3 minutes. Stir in the parsley and serve immediately. 
Makes 8 servings
Per serving: 172 calories, 4 g total fat, trace saturated fat, 0 mg cholesterol, 28 g total carbohydrate, 4 g dietary fiber, 8 g protein, 9 mg sodium.