[donotprint]
STRATEGY SESSION:  Boneless skinless chicken breasts are my pals in this recipe because they're so low in fat and calories.  Instead of using standard vegetable oil, which is only 23% monounsaturated, I upgrade to macadamia nut (81% monounsaturated).  I could have used canola oil, but macadamia nut is more highly monounsaturated. In addition, canola is higher in undesirable omega-6 fats. Finally, most canola oils are made from genetically modified ingredients, and the jury's still out on the safety of GMOs. If you can find organic canola oil, that's definiely non-GMO. 
  I learned this week that an episode of Seinfeld was devoted to doppelgängers. If the term has penetrated that far into popular culture, I feel pretty safe sticking with it. And the name
fits
.  As my son said last night, doppelgängers
are twins-- and Trufflehead's doppelgänger recipes are twins of a sort. Some are
identical
: Simple and
Not-so-Simple Turkey Chili
look the same but differ in complexity and flavor. Others are 
fraternal
: Southwestern Millet
Cakes
and Southwestern Millet
Salad
contain essentially the same ingredients but take different forms.
Lamb Chops
with a Smoky Pipérade and
Chickpeas
with a Smoky Pipérade share a sauce. While the identical twins lead the developing cook from easy recipes to more challenging ones, the fraternal pairs show how you can get the most out of what you already know.  Simple and Not-so-Simple Mesquite Lime Chicken are twins of the Turkey Chili variety. They look alike, but the simple version makes use of commercial mesquite seasoning while the more complex version requires that you make your own. I don't care for artificial mesquite flavoring, so I've relied on smoked paprika and chipotle powder for the smoky flash. However, you can certainly add it to the spice mix if you wish. Serving suggestions: I serve this dish with a Tex-Mex black bean salad and cole slawslaw.
[/donotprint]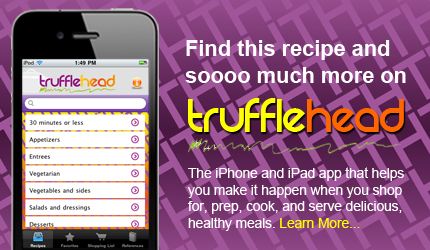 Trufflehead is now available for the iPhone and iPad in the
App Store
. For more content, check out the Trufflehead
food blog
at trufflehead.com.