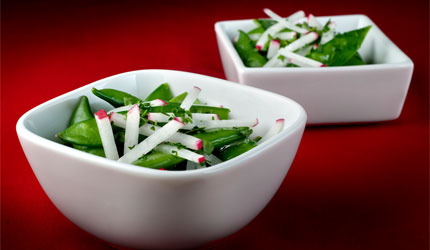 STRATEGY SESSION: As you know, my goals are always to keep fat and calories low and flavor high. To achieve the former, I make the dressing with only 1 tablespoon of added fat, but- in pursuit of the latter-I use toasted sesame oil. The bite of the radishes nicely counters the sweetness of the pea pods, and fresh mint adds a refreshing brightness. The high glycemic index of the sugar is offset by the low GI of the vegetables, so the total glycemic load is moderated.
After months of broccoli, Brussels sprouts, cabbage, and turnips, the produce department is suddenly full of sweet young things. It's true that  the ingredients for this salad are available year-round, but their quality rises with temperature.  The pea pods I bought last week were almost as tasty as the ones my son and I used to eat right off the vine when he was a tot. (There's no better way to get a child to eat vegetables!) The garden is history, but the recipes survived, and this one is spring in a bowl.
Serving Suggestions: I serve this salad with grilled lamb chops or a grilled butterflied leg of lamb.
Minted Pea and Radish Salad
2½ cups snow peas (12 ounces)
2½ cups sugar snap peas (12 ounces)
½ cup thinly sliced red radishes
Salt and freshly ground black pepper
1 tablespoon light soy sauce
1 tablespoon toasted sesame oil
1 tablespoon unseasoned rice vinegar
2 teaspoons sugar
¼ cup chopped fresh mint
Blanch the snow peas and sugar snap peas in boiling water for 1 to 2 minutes, transfer them to an ice water bath, and drain in a colander.  For thorough drying, lay them out in a single layer on a kitchen towel covered with a layer of paper towels. Place another paper towel on top, and cover with another dish towel.  Roll up the whole apparatus and then squeeze gently along the roll.  Combine the pea pods and radish slices in a large bowl.
To make the dressing, combine the soy sauce, oil, vinegar, and sugar in a small bowl or measuring cup.  Whisk to dissolve the sugar.
Pour the dressing over the vegetables and toss to coat.  Season to taste with salt and pepper.  Garnish with the mint.  Serve at room temperature or chilled.
Makes 6 servings
Per serving: 82 calories , 3 g total fat, 0 g saturated fat, 0 mg cholesterol, 11 g total carbohydrate, 3 g dietary fiber, 4 g protein, 180 mg sodium.