[donotprint]STRATEGY SESSION: It isn't unusual to see agrodolce recipes containing 5 to 6 tablespoons of sugar, ¼ cup or more of raisins, and 1/2  cup of  olive oil. I've reduced all 3 by more than 50% without compromising flavor. It's true that the honey and raisins still have a high
glycemic index
, but you can moderate the
glycemic load
of the meal by serving a side dish of low-glycemic veggies, such as the haricots verts in the photo. If you use a nonstick skillet, the fish can be cooked in a tablespoon of oil. Any more is over-kill.
The Trufflehead version of this classic Italian sweet and sour sauce might more accurately be called "agrodolcetto." Why? It contains only 1 tablespoon honey and 2 tablespoons raisins instead of the large quantities of these carb-dense, high-GI ingredients found in traditional recipes. And yet, almost nothing is lost in the paring down: the sauce is still bursting with flavor. The dish is quick, easy, and tasty, and -- if that's not enough-- it has 2 other things going for it. Since the vinegar becomes concentrated when the sauce is reduced, you don't have to use high-quality (i.e.
expensive
) balsamic. A cheap commercial grade will do. To top it off, it's planet-friendly: Tilapia qualifies as sustainable seafood. Serving suggestions: This dish goes beautifully with any simply prepared green vegetable. Green beans, snap peas, or asparagus would be fine. Perhaps surprisingly, it's also delicious with roasted turnips and Brussels sprouts.
[/donotprint]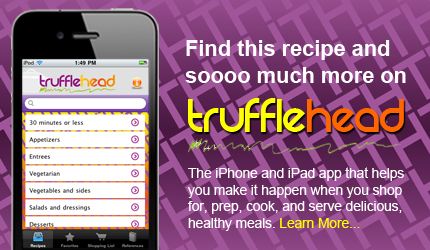 Trufflehead is now available for the iPhone and iPad in the
App Store
. For more content, check out the Trufflehead
food blog
at trufflehead.com.