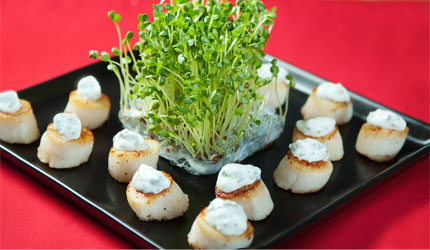 STRATEGY SESSION: Scallops automatically keep total  fat, saturated fat, and calories low in this recipe; but the choice of sea scallops in particular, makes it possible to sear them in very little fat. (See discussion below.) As usual,  I substitute light mayo and low-fat yogurt for their full fat counterparts. By the time you add the other ingredients, any flavor loss due to fat reduction is more than adequately compensated.  Finally, I cook the scallops in the healthiest of all neutral oils, macadamia nut. In my opinion, olive oil is a little too heavy for this dish.
Bay scallops get all the glory. Their season is short; they're rare and pricey. But for healthy cooking, give me scallops from the sea!  Why? SURFACE AREA. Not  to go too mathematical on you, but surface area is the key to cooking scallops in very little fat.
Successful searing requires a certain amount of fat per unit area. The smaller the scallops, the greater their aggregate surface area, and the more fat you need to coat that surface.The fat forms a barrier around the scallops that helps them retain their water. If there's too little fat to coat them, they'll simply release their water and steam instead of sear, and you'll never get them to caramelize. Sea scallops have a smaller total surface area, so searing them requires less fat.  Make sense?
Now, this dish is all about the caramelization. It brings out the sweetness of the scallops, which balances the salty-briny flavor of the sauce.   It also adds a thin crust  that sets off the scallops' creamy interior. Finally, the little flecks of gold make them look as good as they taste.  You want your scallops dry and your skillet hot. After coating them with oil, place your scallops in the skillet one at a time-spaced so they don't touch each other. When you're ready to turn them, use the edge of a plastic spatula inserted under the crust, as close to the skillet surface as possible. Caramelize or bust!
Serving suggestions: Although I often use this dish as an appetizer in an elegant dinner menu, it makes a delicious main course. I serve it with asparagus (peeled and roasted in garlic oil ) and cherry tomatoes (sautéed in olive oil, seasoned with salt and pepper, and sprinkled with fresh herbs). By the way, the garlic oil is also delicious on roasted green beans and broiled or grilled zucchini and summer squash. I buy it by the liter.
Note: Two things I'd like you to know: If your skillet is not as nonstick as you would like, you should spray it with cooking spray before adding the coated scallops. Also, the sauce is very tasty on steamed artichokes.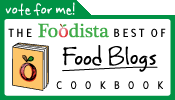 Special Note: I'm very pleased to announce that this recipe was ranked #5 in the Foodbuzz Top 9 on February 10th, 2010.
Seared Scallops with Briny Tartar Sauce
½ cup light mayonnaise
½ cup low-fat plain yogurt
¼ cup minced flat-leaf parsley
2 tablespoons lemon juice
1 ½ tablespoons finely chopped cornichons, plus 1 teaspoon cornichon brine
1 tablespoon capers, chopped if large, plus 1 teaspoon caper brine
½ teaspoon grated lemon zest
½ teaspoon salt, plus more for seasoning the scallops
Freshly ground black pepper to taste
1½ pounds large sea scallops
1 tablespoon macadamia nut oil or other neutral oil
In a medium bowl or measuring cup, combine the mayonnaise, yogurt, parsley, lemon juice, cornichons, cornichon brine, capers, caper brine, lemon zest, salt, and pepper.
Place the scallops in a colander and rinse under cold running water to eliminate any grit. Pat dry THOROUGHLY between layers of paper towels and transfer to a medium-sized bowl. Add the oil and toss to coat. Season generously with salt and pepper.
Heat a large nonstick skillet over medium-high heat. When it is hot, add the oil-coated scallops 1 at a time- distributing them around the skillet so that they DO NOT TOUCH. Using a silicone or rubber spatula,  scrape any remaining oil onto the scallops.
Cook until golden brown on both sides, about 6 minutes total. For best results, turn only once-using a plastic spatula to loosen them without losing the crust. Serve immediately, with a dollop of the sauce.
Makes 4 servings
Per serving: Calories 156, 6 g total fat, 1 g saturated fat, 13 mg cholesterol, 22 g total carbohydrate, 7 g dietary fiber, 6 g protein, 401 mg sodium.