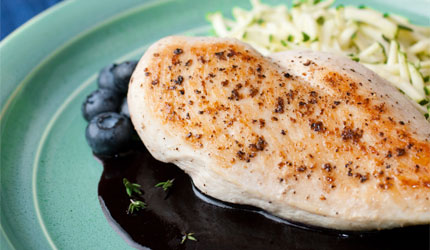 [donotprint]STRATEGY SESSION: This recipe's main ingredients, chicken breasts and blueberries, are both low in calories and fat, so the dish offers two advantages right off the bat. Blueberries are high in anti-oxidants and their health benefits are well known. They have a low glycemic index, which balances the small quantity of sugar in the sauce. It also helps limit the glycemic load of the meal. A small amount of olive oil is used to cook the chicken.
I'd like to add some detail to the following Trufflehead preview. The description appears in the app  pretty much as it does below, but the recipe itself lacks all of the goodies. Here's what you're missing:  Alongside  "blueberries"  in the ingredients list, you'll find the Priority Organics icon. This symbol tells you that it's best to buy organic blueberries because conventional blues rank high in pesticide residues. Next to the sugar, thyme, and chicken, you'll find video icons that will take you to the relevant demos:
Dry Ingredients (measure)
,
Thyme (chop)
,
Chicken Breasts (trim)
. If you need them, you're all set; if you don't, just ignore them. Tap "raspberry vinegar", "apple cider vinegar", and "fresh thyme " to see a photo and selection/location/storage info. For a demo of Step #2 in the instructions, hit the video icon and
Blueberries (puree)
will open. If you don't know a "fine mesh sieve" from a colander,  just tap the name and an image will appear. I've included serving suggestions in the description. And now, from
Trufflehead
... Some poultry-fruit combos are famous (Duck a l'Orange), others not so much. Our blueberried bird can't compete with Duck a l'Orange on fame (or fanciness either), but it's quick, easy, and seriously tasty. For stress-free entertaining, make the sauce in advance. Frozen berries work fine, and apple cider vinegar can sub for raspberry. The dish goes well with grains—either simple (quinoa, whole grain orzo, or bulgur wheat) or elaborate (Warm Bulgur Wheat with Vegetables, Chickpeas, and North African Spices). If you'd prefer a simple vegetable, try Broiled Zucchini with Double Basil or Broiled Summer Squash with Roasted Pepper Oil. Tip: Be sure to clean your cutting board and wash your hands thoroughly after handling the chicken
.[/donotprint]
Note: This recipe is now exclusively available on Trufflehead, my healthy cooking app for iPhone and iPad. It was selected as one of Apple's "New and Noteworthy" featured apps on January 5th, 2012. You can click the ad below to read about Trufflehead on iTunes and you can see it in action in the accompanying video.
[/donotprint]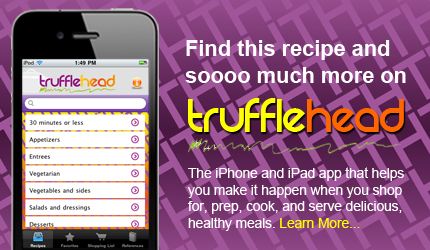 Trufflehead is now available for the iPhone and iPad in the
App Store
. For more content, check out the Trufflehead
food blog
at trufflehead.com.