[donotprint]STRATEGY SESSION:  Although dessert, by its nature, tends not to be particularly healthy, there's a spectrum, and it's possible to create desserts that are healthiER. Rice pudding is simply rice (usually white rice) in a custard. It normally contains heavy cream or a combination of whole milk and egg yolks. Large quantities of sugar are used-- often in sugar-to-rice ratios of 1:1. (In fact, I saw one recipe that contained sugar and rice in a 3:1 ratio!)  In this recipe, I use brown rice, which is much higher than white rice in fiber and nutrients. My "custard" base comes from low-fat Greek yogurt instead of the traditional high-fat-high-cholesterol ingredients. I sweeten the pudding with maple syrup in a syrup-to-rice ratio of less than 1:2. Toasted walnuts contribute healthy fats. While I wouldn't recommend eating this dish often (for glycemic reasons), it is very low in total fat and saturated fat, and-- as desserts go-- fairly low in calories.
To kick off 2011, I wanted to present something NEW that conveyed a wish for good fortune-- and rice came to mind. Now, if you've followed this blog, you probably know that I generally don't
do
rice for reasons having to do with
glycemic index
and
glycemic load
. However, Trufflehead was created for developing cooks (such as my son) who want to eat healthfully but inhabit a less spartan food world. So,  I included things that I wouldn't normally cook or eat, and rice--of any color-- is one of them. Since brown rice is higher in fiber and nutrients than white, I decided to experiment with it, and I particularly liked the Arborio-like texture of the short grain variety. The inspiration for this dessert (which also makes a delicious breakfast or snack) came from Amie Valpone, author of
The Healthy Apple
blog. Amie is a Manhattan-based culinary marketing consultant who specializes in gluten-free and dairy-free nutrition. On a recent visit to her blog, I noticed that she used honey-sweetened Greek yogurt in place of  high-fat custard in her  
Basmati Rice Pudding
, and I decided to create a variation with short grain brown. The result was so satisfying that I plowed through 4 bags of brown rice (short, medium, long, and basmati)  on my way to a series of dishes for Truffehead. If you happen to have leftover brown rice in your fridge, this pudding is a great way to use it. Just substitute 3 cups cooked brown rice for the water and uncooked rice in the recipe. If you don't have 3 cups, that's fine; the pudding will simply be a little less dense. Also, you can eat it as soon as you make it, but the consistency is more pudding-y if you refrigerate it overnight.
[/donotprint]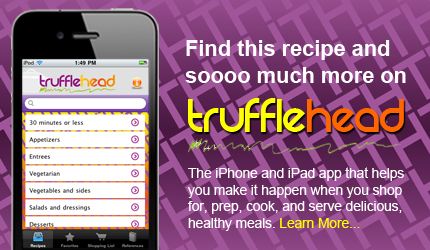 Trufflehead is now available for the iPhone and iPad in the
App Store
. For more content, check out the Trufflehead
food blog
at trufflehead.com.