[donotprint]STRATEGY SESSION: Since this dish contains only 5 g total carbohydrate, it can help balance the carbs in the rest of the meal and moderate the glycemic load. Low in calories and fat, swordfish is an excellent source of lean protein. I use a small amount of olive oil to grill the fish and, as usual, I substitute reduced-fat for full fat mayo in the sauce.
If you enter "seafood" in Trufflehead's search window, you'll end up with 38 fish and shellfish dishes for your scrolling pleasure. You can browse the photos and read the descriptions until you find one you like. Every piece starts with "why you should cook this" and tracks either toward
info-
or
-tainment
. The cod and tuna intros, for example, refer users to eco-friendly options. Tips on shopping, nut-toasting, mushroom-cleaning, and kitchen hygiene figure in others. Whenever I lacked truffles of wisdom to impart, I just had fun. The support system for Grilled Swordfish with Arugula Mayonnaise includes photo IDs for arugula and scallion (with selection and storage info) as well as 4 demos: Arugula (clean and chop), Citrus (zest), Citrus (juicing), and Scallion (chop). And now, from Trufflehead... Opposites attract in this insanely easy summer recipe. You get the mild sweetness of hot-off-the-grill swordfish and the cool sharpness of a tangy, peppery mayonnaise. The entertaining-friendly sauce can be made in advance. Since the ingredients are mostly white, serve with a colorful side, such as Chickpea, Fennel, and Pepper Salad, Simple Grilled Beets, or Cannellini Salad with Tomatoes, Anchovies, and Capers
.[/donotprint]
Note: This recipe is now exclusively available on Trufflehead, my healthy cooking app for iPhone and iPad. It was selected as one of Apple's "New and Noteworthy" featured apps on January 5th, 2012. You can click the ad below to read about Trufflehead on iTunes and you can see it in action in the accompanying video.
[/donotprint]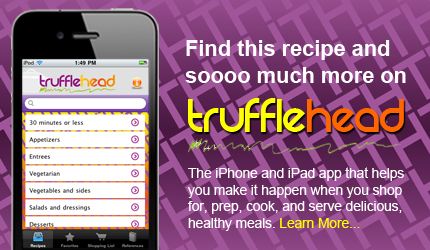 Trufflehead is now available for the iPhone and iPad in the
App Store
. For more content, check out the Trufflehead
food blog
at trufflehead.com.