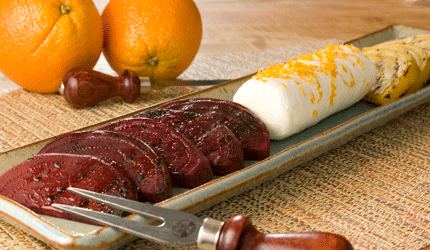 STRATEGY SESSION: As usual, my goals here are to keep fat and calories low, flavor high, and glycemic load under control. To those ends, I start with a low-calorie, high-fiber vegetable. Then I substitute low-fat for full fat goat cheese.  Orange zest pumps up the flavor of the cheese and grilling (for which minimal oil is required) intensifies the flavor of the beets.
I'm a beet freak from way back. I had always roasted them until a couple of weeks ago when, in the middle of a heat wave, I couldn't bring myself to use the oven.  Online references to grilled beets called for "slow grilling", which takes forever. So, I decided to experiment with a 2-step process of parboiling (15 minutes) and rapid grilling (8 to 10 minutes). Bingo! I actually parboiled the beets one day and grilled them the next. They were so easy and delicious that I've made them 3 times since.
In this setting, I like to use the largest possible beets without greens. (These grapefruit-sized beets weigh about a pound each.) Explanation? I feel guilty if I waste the greens, but I'm often too lazy to deal with them.  In addition, the smaller surface area of large beets offers 2 practical advantages: There's less surface to peel and less to coat with oil, so you can get away with smaller amounts of both labor and fat. Since beets are naturally low in fat and calories, why negate those benefits by slapping on lots of oil? I'd rather limit the oil and add a little goat cheese instead.
Serving suggestions: This appetizer is a delightful addition to almost any summer menu, and it's perfect for entertaining because you can parboil the beets up to 2 days in advance. However, the beets are also terrific as a side dish to accompany pork, turkey, or lamb.
Note: If you can't find jumbo beets, use regular ones, but don't halve them before slicing; just leave them whole. Also, be sure to feel the beets before buying. They should feel hard, not spongy. Also, I recommend testing for doneness at 15 minutes. If you like them al dente, stop cooking when they can be pierced with a fork but still offer a little resistance. If you like them tender, continue cooking another 5 to 10 minutes, but don't make them too soft or they'll fall apart on the grill.
Special Note: This recipe has been entered in today's Foodbuzz Top 9 competition. If you like the recipe (and/or the photo), Kateryna and I would really appreciate your help. To vote, go to http://tinyurl.com/grbeet and click the green buzz-it icon in the upper right hand corner of the page. Thanks very much for your support!
Grilled Beets with Orange-Scented Goat Cheese
4 large beets (any color),  about 1 pound each, scrubbed, trimmed, and peeled
6 ounces mild reduced-fat goat cheese
2 teaspoons grated orange zest, or to taste
Olive oil spray
Salt
Pepper
2 tablespoons balsamic vinegar, or to taste
Baby salad greens (optional)
Halve the beets lengthwise and then cut cross-wise into ½-inch thick slices (half-moons).
Place the beets in a large deep pot and add water to cover by 3 inches.  Bring to a boil over high heat. Reduce heat to low. Cover and cook approximately 20 minutes, until beets are just tender when pierced with a fork, but are not soft.
Meanwhile, prepare an ice water bath. When the beets are done, drain and transfer to the bath to stop the cooking. Drain and dry between layers of paper towels. (May be prepared to this point up to 2 days in advance and refrigerated in a covered container.)
Place the goat cheese on a piece of plastic wrap large enough to cover with at least a 1-inch margin on all sides. Rolling the cheese back and forth on the plastic, sprinkle with the orange zest to coat lightly. Wrap and refrigerate until ready to serve. (May be prepared to this point up to 8 hours in advance.)
Prepare a grill with an oiled rack and preheat to high.
Spread out beets in a single layer on baking sheets. (If you do not have more than one sheet, you can work in batches.) Coat lightly with olive oil spray and season generously with salt and pepper. Turn and repeat on the other side. Grill 3 to 4 minutes per side until lightly charred.
Transfer to a platter and drizzle with the vinegar. Serve warm or at room temperature with the cheese and baby greens, if using.
Makes 6 servings
Per serving: 134 calories, 3 total fat, 1 g saturated fat, 5 mg cholesterol, 20 g carbohydrate, 6 g dietary fiber, 7 g protein, 258 mg sodium.