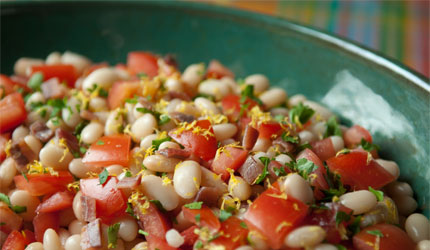 [donotprint]STRATEGY SESSION: Beans are naturally low in fat and they have a low
glycemic index
. However, they're  high carb-density foods (grams of carbohydrate per unit volume). The key to moderating their contribution to the
glycemic load
of any dish (and corresponding meal) is to combine them with low-density carbs. In this salad, I add an equivalent volume of low-GI, low-carb-density tomatoes, which moderates the GL of both dish and meal.
I've filled out a number of admissions applications in my life—to college, graduate school, medical school, and residency—and I know that the essay is always a "selling" opportunity. You can have all the cred in the world (grades, scores, recommendations, etc.), but if you can't make a good story out of your distinctions, you'll have a hard time getting in the door.
Trufflehead is:
FUN: To be fun, cooking has to be easy. More than half of our recipes are rated EASY, and 75% of them can be prepared in 30 minutes or less.
TASTY: Our cuisine is global and takes you from the familiar (like French Toast) to the exotic (like Tandoori Chicken).
BUDGET-CONSCIOUS: Aside from a few special occasion dishes, our recipes hold the line on cost.
HEALTHY: We're into lean proteins, good-for-you fats, whole grains, beans, fruits, and veggies. We will also tell you when buying organic is a priority. You can easily search recipes by ingredient, number of servings, and diet, including low cal, low fat, low carb, vegetarian, vegan, dairy free, and gluten free.
ECO-CONSCIOUS: We've got lots of planet-sparing vegetarian and vegan dishes and lots of recipes with low carbon-intensive animal proteins—poultry and eggs.
Today's recipe is living proof. It also contains the signature TH support system: ingredient IDs for the anchovies, capers, and flat-leaf parsley and demos for almost every step—Anchovies  (chop), Capers (chop), Citrus (zest), Beans (rinse and drain), Tomatoes (chop), and Parsley (mince). And now, from Trufflehead… Here's a speedy bean salad with bright, fresh, Mediterranean flavors. For variety, use halved cherry or grape tomatoes instead of Roma (plum). In August or September, try heirloom tomatoes. Serve with Grilled Tuna with Spicy Scallion Mayonnaise, Broiled Chicken with Basil Mayonnaise, or Herb-Grilled Shrimp with Lemon Mayonnaise. Too much work? Cook shrimp or calamari in olive oil with garlic and parsley. If you can't face a skillet, top with boiled shrimp, canned tuna or salmon, or HB eggs. Tip: The anchovies add depth and intensity, but—if they're not your thing—just omit them.
[/donotprint]
Note: This recipe is now exclusively available on Trufflehead, my healthy cooking app for iPhone and iPad. It was selected as one of Apple's "New and Noteworthy" featured apps on January 5th, 2012. You can click the ad below to read about Trufflehead on iTunes and you can see it in action in the accompanying video.
[/donotprint]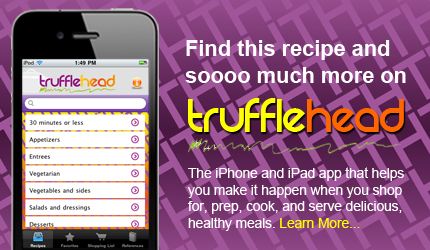 Trufflehead is now available for the iPhone and iPad in the
App Store
. For more content, check out the Trufflehead
food blog
at trufflehead.com.