STRATEGY SESSION: You have to try hard to make beans unhealthy. My only strategic intervention here involves moderating the glycemic load. Like all legumes, cannellini beans have a low glycemic index, but they are very carbohydrate-dense. Since GL is a function of GI and carbohydrate density (CD), I can moderate the GL by adding components that are lower in CD  than the beans. Both the fennel and red onion meet that requirement.
I hate canned beans. Don't get me wrong: I'm all for speed and convenience, but some things just can't be rushed. Compared to their poor canned relations, home-cooked beans have much more flavor, better texture, and a lower glycemic index.  Forget the faded, mushy commercial glop! The beans you cook yourself are individual little creatures, with distinct characters, shapes, and colors. While the starchy, viscous medium that surrounds canned beans is best rinsed off, the delicate cooking liquid in your own bean pot is eminently useable-as a soup base or a moistening agent for a bean stew. As far as convenience goes, I cook them at mine- when life permits.
Ay, there's the rub. I know you think you don't have time to cook your own beans. Nonsense! Beans demand time but no labor, so they're prime candidates for multi-tasking. I make them on Sunday afternoons while I do laundry, return e-mails, and pay bills. All you need is a block of time when you're going to be around.
To soak or not to soak: Some people "slow soak" beans overnight to decrease cooking time. Others use the "quick-soak" method to accelerate both soaking and cooking. I do neither: I'm a card-carrying non-soaker. In my experience, soaking causes a loss of flavor and a degree of fermentation that makes beans harder to digest. This is a minority view, however. Although she acknowledges several experts on my side of the issue, Aliza Green (author of The Bean Bible), is a committed soaker. She believes it makes beans easier to digest. Conclusion? You'll have to experiment and see what works best for you. Soaked or not, beans take time and they'll punish you if you don't give them their due.
For additional information on cooking beans, see this week's Odds & Ends column.
Serving Suggestions: The bold Mediterranean flavors in this stew go particulaly well with lamb, so I like to serve it with broiled lamb chops or (if I'm feeling energetic) a roast leg.
Special Note: I'm delighted to announce that these festive little beans were ranked #3 out of 3166 posts in the Foodbuzz Top 9 on January 20th, 2010.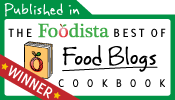 Very Special Note: I'm thrilled to announce that this recipe was a winner  of the "Foodista Best of Food Blogs Cookbook Contest". It will be appear in Foodista Best of Food Blogs Cookbook: 100 Great Recipes, Photographs, and Voices, published by Andrews McMeel and due out in October 2010. The book will be available at Amazon.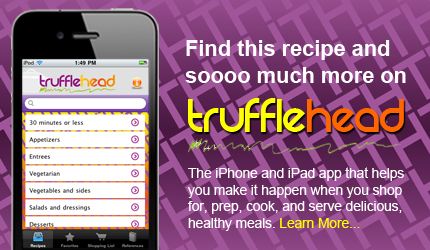 Trufflehead is now available for the iPhone and iPad in the App Store.
For more content, check out the Trufflehead food blog at trufflehead.com.