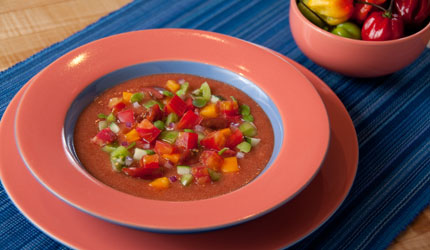 [donotprint]STRATEGY SESSION: Tomatoes and peaches are naturally low in fat and calories. Since they have a low
glycemic index
and are not very carbohydrate-dense, they make a minimal contribution to the
glycemic load
of any meal in which they appear. The remaining ingredients contain no fat and virtually no calories.
  It's hot, and all I can think about is cold soup. This spicy fusion gazpacho was my obsession late last summer. Sadly, by the time I got around to photographing it, my neighbors had pumpkins on their porches, so I tucked it away for future use. Now that heirloom tomatoes are back, I feel free to post it. Like last week's Vidalias, this soup will appear in the fall v1.1 release of Trufflehead. It's ridiculously easy, unless your peaches happen to be soft—in which case you'll have trouble peeling them. It probably wouldn't be so bad to toss them into the blender unpeeled because you pass them through a strainer anyway. But I've never done it, so I can't guarantee the results.  However, I
can
guarantee that Trufflehead's support system will put this soup within the reach of anyone with a blender. The ingredients list contains photo IDs for the sherry vinegar, sriracha, red onion, and basil, as well as video links to Tomatoes (core and chop), Peaches (peel and seed), Dry Ingredients (measure), Cucumber (seed and chop), Onion (chop), and Basil (mince). The equipment list provides photo IDs for almost everything you could possibly need, including a wire whisk, strainer, and non-reactive container.  The active prep time is less than 30 minutes. And now from Trufflehead…   This cold spicy soup showcases the raw talent of summer fruits and veggies. You can make it with any ripe tomatoes, but it's tastier and sexier with heirlooms. The dish is guest-friendly because the puree keeps well in the fridge for several days. At a moment's notice, you can throw together the chopped salad and deliver a dynamite appetizer. The soup-to-salad ratio is up to you. If you're way into salad, make a double batch, heap some into a bowl, and surround it with a little moat of puree. If soup is your thing, treat the salad as a garnish. To make it even more exotic, substitute minced Scotch bonnet chilis for the sriracha. Start with 1 teaspoon and go from there. Tips: Slightly bruised peaches and tomatoes are fine for this recipe, but be aware that soft peaches will be challenging to peel. If you're fluent in Tomato, use Brandywines and other large reds for the puree; for the salad, try Striped German, Green Zebra, Cherokee Purple, Garden Peach, Hillbilly, Lillian's Yellow, and Zapotec Pleated. The puree needs at least 4 hours to chill, so plan ahead.
Note: This recipe is now exclusively available on Trufflehead, my healthy cooking app for iPhone and iPad. It was selected as one of Apple's "New and Noteworthy" featured apps on January 5th, 2012. You can click the ad below to read about Trufflehead on iTunes and you can see it in action in the accompanying video.
[/donotprint]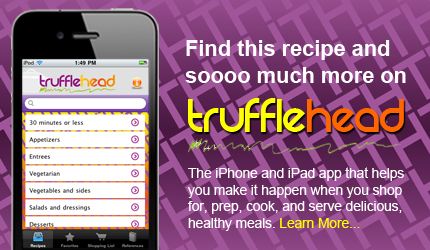 Trufflehead is now available for the iPhone and iPad in the
App Store
. For more content, check out the Trufflehead
food blog
at trufflehead.com.